If you are wondering how to start a digital marketing agency, have in mind this is a challenging endeavor, and it won't be easy. Don't look at it as creating a conventional small business. Instead, it's better to look at a digital marketing agency as launching a startup.
What does this mean?
Even though the term "small business" and "startup" are often used interchangeably, there are many differences between the two in the magnitude. With a small business, you are interested in making a profit. With a startup, you are going to take over the world!
The main reason for this is the rapid changes in the digital industry. Every day, there are discoveries made, and new frontiers appear waiting for you to conquer them. What's more, digital marketing is one of the forerunners of this change. With people these days being bombarded by various advertisements, finding a new way to reach the audience will be your main goal.
So, if you are wondering how to start a digital marketing agency, think about coming up with new things – and becoming an innovator. This will make your agency a startup. 
But how to start and run a successful one? Here's how.
Steps for starting a digital marketing agency
If you want your business to not only survive – but thrive – you will want to take these six actionable steps:
Structure your idea

Create a business concept

Select the right business model

Define your market niche and do research

Set up a digital agency business

Create a lead generation engine
Step #1: Structure your idea – Put everything together
It can be tempting to start jotting down everything that pops into your mind. However, even the best brainstorming sessions need some structure! So, make sure that you give it – by dividing your ideas into sections.
For example, you will want to explore the market you will be playing in. What is its size? Who is your target group? What is the growth state of your market?
Then, you will want to examine how you are planning to change this market. What are your game-changing solutions for it? Can it resolve any current problem, and in which way? What makes your solution unique and desirable?
Diving up your ideas like this will help you conquer them more easily. You will be able to manage your brainstorming and come up with realistic solutions that will boost your digital marketing agency.
This can look very simple, and simplicity leads to success.  
Step #2: Create a business concept
Similarly to the first step, you will need an order for everything you will be doing. This is why you need to create a concept. This includes identifying what your core product line is, as well as your likely demographic and mission and vision statements.
The vision is what you want to be in the future, while your mission is what you will do on a day-to-day basis in order to achieve these goals. At this step, you will be designing your brand, image, and corporate culture. There is no successful business without these, and so you will need them to.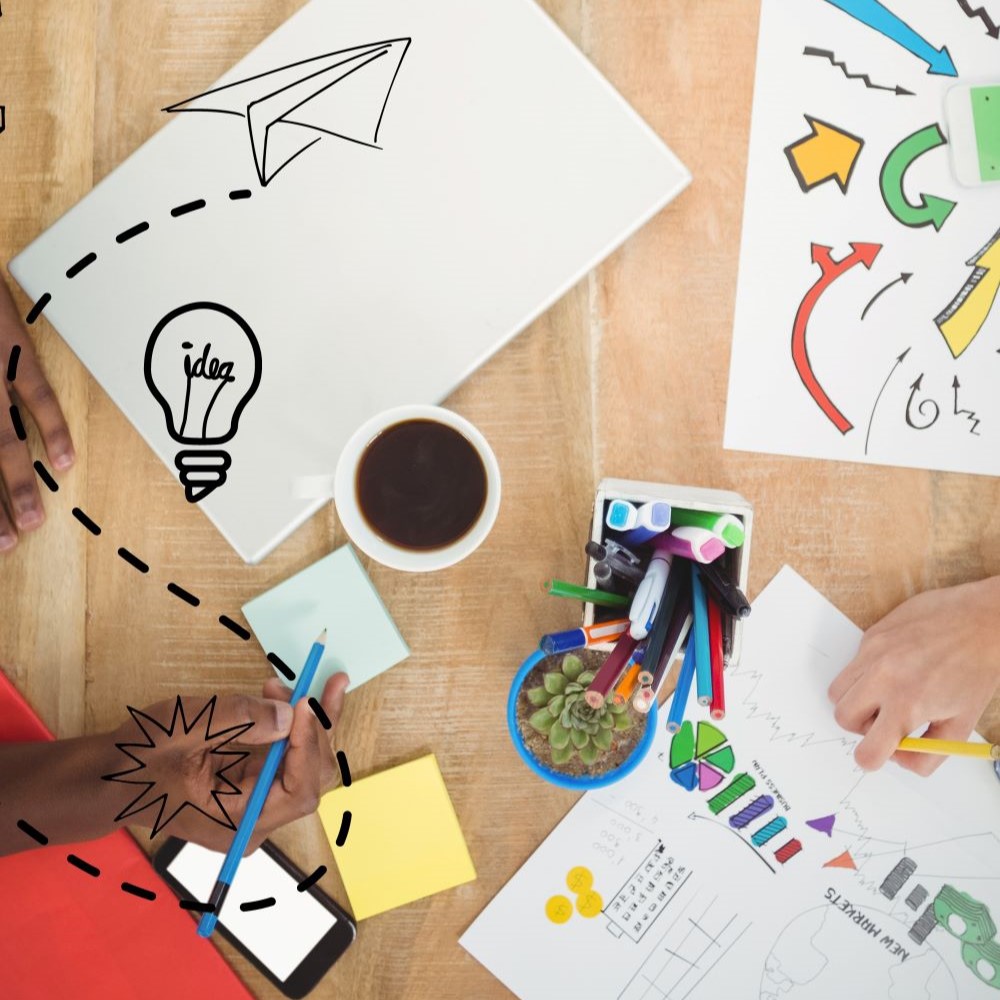 Step #3: Select the right business model
The way you manage your business will also be affected by the services you provide and how you will bill your clients. This is why this is the third important thing you need to establish when starting your digital marketing agency.
These are some of the most common ways in which you can bill your clients:
Hourly 
For a lot of people, working with a client means working one-on-one – through phone or directly. And when this work is short-term, then you will want to bill your clients hourly. However, if you are looking for a long-term relationship with the client, you will want to evade this. As time goes by, the marketing strategies grow complex, and it can be hard to determine just how long you are spending working on them.
Flat retainer
This model is also known as a monthly fee. You estimate how much work you will be doing every month and give your client a flat fee. It is simple, helps avoid any tensions when the time for invoices comes, and both you and your client can plan your expenses and earnings. However, it is not something you will want if your client is going to scale exponentially over time. The best way to handle clients like these is to set up a period of time, after which you renegotiate the fees.
Percentage of spend 
A lot of digital marketing agencies use this model because it factors the clients' scalability. However, this is not a model for startups, but for agencies with a certain maturity level. This is because you do not have the level of control over the budget you would with other methods. Our suggestion is for you to start with a flat retainer model and then move to the percentage of spend with bigger clients as you develop your agency.
Commission-based 
Finally, this model will let you gain an advantage over those competing for the same clients. However, using this model means you are getting paid only when your client starts making money from the campaign you created. What this means is that, if your clients don't get customers from your campaign, they won't need to pay you. This is great for building trust, but not the best for your bottom line because it complicated the billing process.
Step #4: Define market niche and do research
Even though it can be tempted to welcome all customers, you will do much better by focusing only on a certain niche. And so, you will need to decide what it is and how you will fit within it.
This is the part where some of those questions from step 1 come into play. First, you will want to explore the market size in your niche. Try to predict how it is going to grow and who your clients are going to be.
You will also need to research your competitors. Are there many digital marketing agencies in your niche? If yes – will you be able to come on top? If not – is there a reason for it? Perhaps there is no need for such advertisements – or it just costs too much to do. These are important questions you will want to examine before pursuing further.
SWOT Analysis
There is another important activity you want to conduct before opening a business, and it's called SWOT analysis. You will be looking into strengths, weaknesses, opportunities, and threats to your business in the niche. Complete it, and you will have greater insight into what you should aim to accomplish with your marketing agency.
Calculate market potential
After completing market research, you might want to calculate also the market potential:
 

The Whole Market or Total Available Market (TAM)

 

Target Market or Serviceable Addressable Market (SAM)

 

Share of Market or Serviceable Obtainable Market (SOM)
We provided a detailed explanation on how to do it in another blog article. 
Benefits of focusing on a specific niche
For example, it will make onboarding easier. Niche helps you define your ideal client, so you do not need to worry about countless variables in play. The whole onboarding process becomes streamlined and painless – both on you and the client.
It also gives you some extra competitive advantage. If you become an expert in your niche, you will be able to separate yourself from hundreds of low-quality marketing agencies on the internet. Working in only one or two niches will develop your reliability around and help you find clients easier.
Step #5: Set up your digital agency business
Finally, you will want to officially set up your digital agency business. To do this, you need more things – to define your costs and to define your financing.
Defining costs basically means calculating how much you will need to spend to keep your business running. This can be anything from renting a space, paying the bills and your employees, utilities, insurance, inventory – the list can go on and on. It may seem scary and tiring – but it is a vital step because it will help you estimate your profits and attract investors.
And this is where the second task comes in. Defining financing means figuring out a way to provide funds for your activities. There are multiple ways to achieve this. Two of the most common ones are equity financing and debt financing, but we encourage you to research them all carefully.
Step #6: Create a lead generation engine
The final step in your journey of starting a digital marketing agency business is to create a reliable lead generation engine. Leads are people who have any interest in your services or products. They will usually subscribe to your mailing list or contact you directly.
Meanwhile, generating leads means attracting and converting strangers – making them interested in your services. Examples include blog posts, e-books, marketing case studies, and similar. 
Step #6: Make a sound business plan
Without a business plan, you should not be venturing any further! With it, you will have solutions to many of your problems.
Why is a business plan important?
Sticking to the plan will help you focus on the right strategy, and help you shine a spotlight on the issues you will be facing. These do not only include financial matters but human resources, technology, management, and so on!

The business plan you create will help you with your finance, too. Potential investors or partners will most likely want to take a peek at your plan before joining you on your entrepreneurship journey. They do not only care about the ideas but also about how you plan to run them. So, if you create your plan well, then you can easily communicate your ideas with them and convince them to invest in your agency.

Finally, the business plan will help you notice any red flags and point you towards the problems in making your idea come true. For example, you can have experts give you advice after looking at your plan and save you a lot of time and money this way.
However, no two ideas will ever be the same – and so, no two business plans will be the same either. Every business and startup has a unique business plan and model – which makes it harder for new entrepreneurs to create their own. But you are in luck – because we are here to help you with this process! 
So, how to start a digital marketing agency?
Now you have learned everything you need to know about how to start a digital marketing agency. If you want to get more information about the whole process, we suggest you read The Ultimate Guide: How to Start a Digital Marketing Agency From Home.
Starting a digital marketing agency is can be an exhausting, and yet rewarding experience. The goal is to consider your niche carefully, study your competition and establish your differentiators. Once you build the expertise in the industry, you can start to expand and grab a bigger piece of the pie till you secure your success further down the line.