Looking for some cool and affordable Strategyzer alternatives? Look no further – you're in the right place.
While it's true that Strategyzer is the most popular innovation software for mapping business models, it doesn't mean it's the best tool out there. In fact, there are many Strategyzer alternatives that you can consider if you want to flesh out your idea. How come?

Before we answer that question, let's see what Strategyzer offers, so we can compare it with the others. 
What is Strategyzer? 
Strategyzer is an innovation management software tool that helps you easily sketch out a business model by using their Business Model Canvas and Value Proposition Canvas. You can collaborate with your team, brainstorm and evaluate the ideas. Also, it's useful for deciding which ideas you should keep and which ones should be discarded.
This software created by Alexander Osterwalder is definitely one of the most popular business modeling tools. But, every product has its good sides and drawbacks. That's why we'll go over its pros & cons, and offer Strategyzer alternatives that you might find more suitable for your needs.
What are the pros of using Strategyzer?
Simple to use 

Collaboration feature

Testing Dashboard

Built-in help 

Export to .pptx format

Unlimited users and canvases 
What are the drawbacks of using Strategyzer?
Created for consultants and users with a business background.

Strategyzer could be confusing to individuals with little or no business background.

It's lacking business planning features.

If you plan on developing your idea further, you'd have to move your work to another tool.

Hefty price – $300 per year. A bit pricey.

 

 
No free trial

, only 30-day money-back guarantee. 
Top 5 Strategyzer Alternatives in 2022 
Now, let's answer our earlier question. What are the Strategyzer alternatives, and what you can get from them? 

While Strategyzer is one of the first business modeling tools, it is primarily designed for the innovation teams within enterprises. That is the main reason why some of the Strategyzer alternatives might be more useful to you. They are made for both bigger teams and for solopreneurs. These tools are generally less pricey and more suitable for individuals looking to start their own business endeavors. 
So, here are the five Strategyzer alternatives to choose from in 2022.
1. IdeaBuddy 
IdeaBuddy is an innovative business planning tool for people who want to turn their ideas into reality. This web application has a great feature that helps you sketch out your business ideas on a simple canvas –  it's called Idea Plan. Idea Plan is an innovative Business Canvas, rather than Business Model Canvas. It is a one-page business plan that's more suited for individuals planning on starting a home business or a startup, while BMC is more directed towards corporations and consultants.

Other than being more suited for individuals and aspiring entrepreneurs, Idea Plan has several advantages over BMC. It considers external factors such as competition and market trends, while Strategyzer only focuses on internal factors (business model). 
Another great thing about IdeaBuddy is that, once you determine your business idea is good for further development, you can continue developing a detailed business plan right there, where you started.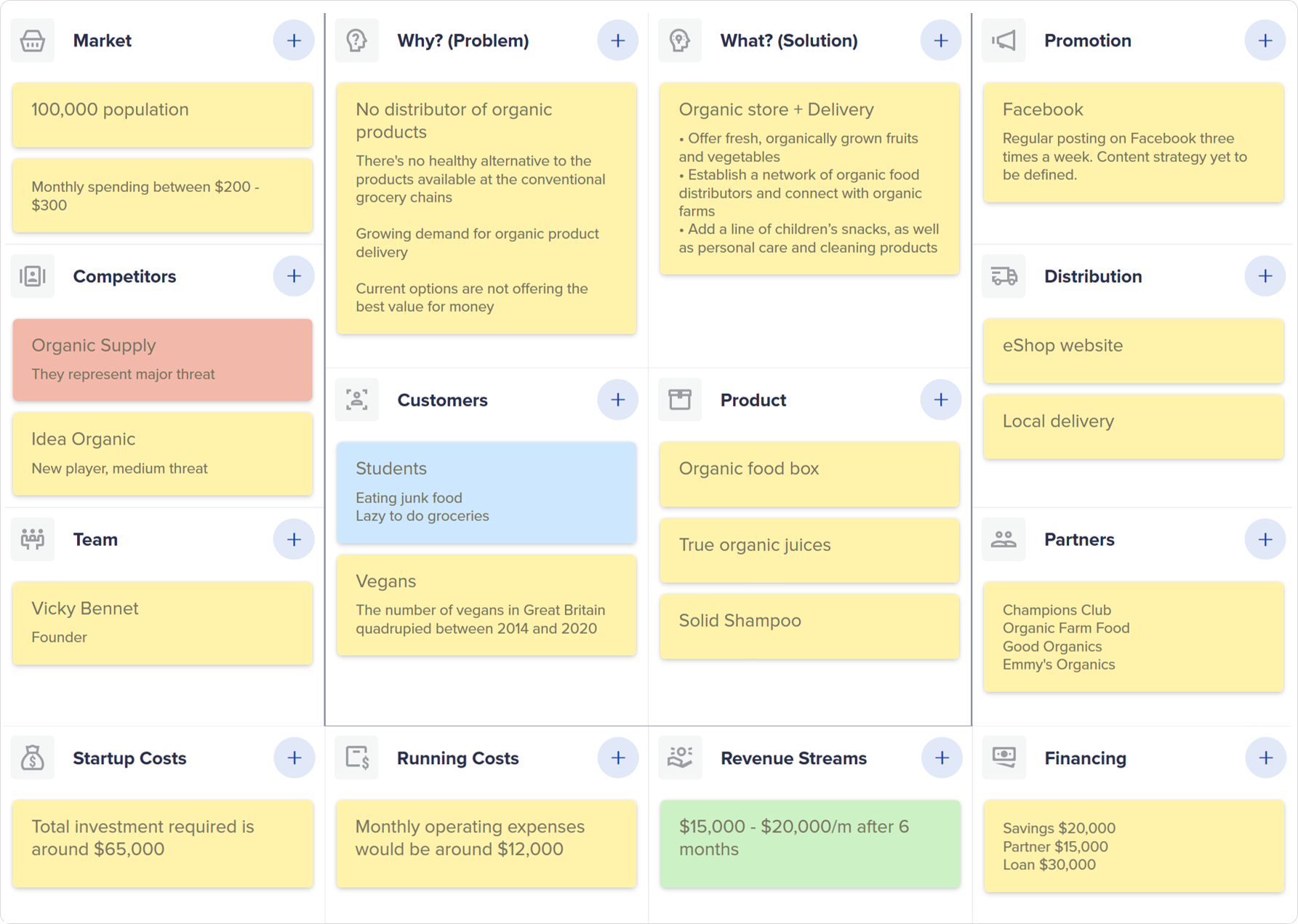 Features 
One-page business plan (Idea Plan)

Step-by-step business planning guide (Business Guide)

Automatic financial projections (Financial Plan)

Business plan builder (Business Plan)

Idea validation tool

(coming soon)

PDF and Word file export 

Invite collaborators

(coming soon)

Guides and tips along the way 
What's unique about IdeaBuddy 
IdeaBuddy is a tool that takes you through all the stages of planning a business. Even if you're just looking to sketch out your ideas, see if they're worth planning further, Idea Plan still offers you a more comprehensive approach to planning out your ideas than BMC. It is a unique tool that helps you plan out your whole business even if you don't have a business background. What's more, IdeaBuddy provides you with useful tips and guides along your business planning process. 
Pricing 
Free trial – Yes, you can try out IdeaBuddy for free for 15 days
Dreamer plan – Costs $15 per month / $45 per year. You can have 1 idea (project) in this plan that you can share with one collaborator. It includes a business canvas, a step-by-step business planning guide, and a financial plan, which you can export and share. 
Founder plan – Costs $25 per month, / $85 per year, you can have up to 3 ideas (projects) in this plan and share it with three collaborators. It has everything included in the Dreamer plan, plus you are getting a business plan builder.
Team plan –This plan is perfect for startups and small businesses. It costs $55 per month / $245 per year, and you are getting 30 ideas (projects) included in this plan, plus you can have up to 30 collaborators. You'll have access to the same features as the Founder plan.
Lifetime plan –  This is a time-limited offer and it includes a full-featured Founder plan with 3 ideas for only $155, where you can also invite up to 3 collaborators once that feature is developed.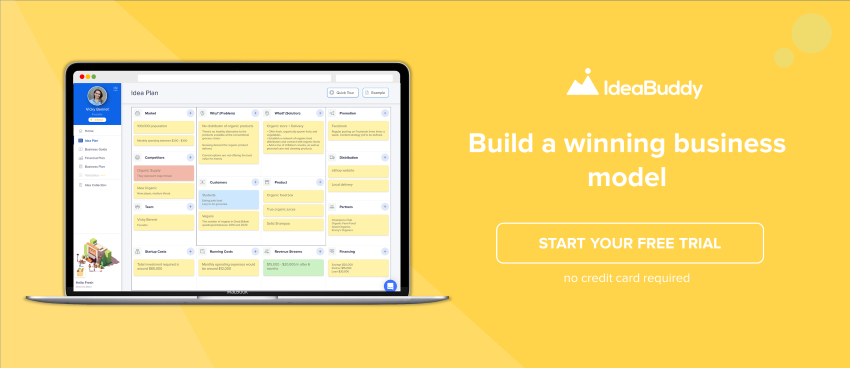 2. Canvanizer
Canvanizer is a tool that lets you quickly sketch out business ideas with your team. More of a "brainstorming tool" you could say. 
Now, before we jump in, it's important to note that Canvanizer has two versions: 1.0 and 2.0. While Canvanizer 1.0 is free, there's a more advanced, Canvanizer 2.0 that has more features to offer.

What's great about Canvanizer is that it's easily shared with others. It's a quick way to determine what ideas are worth pursuing further and which ones you should leave behind. It uses the same business model canvases as Strategyzer, so the approach to business model planning is the same.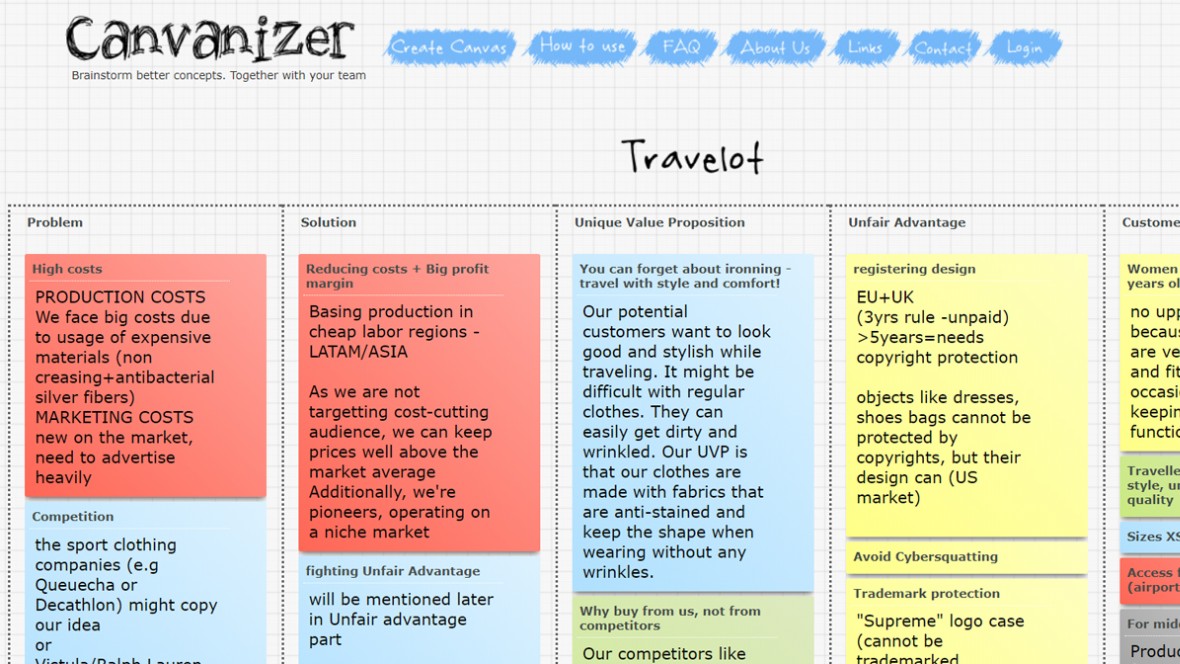 Features 
Private canvases / Revocable links

PDF & PNG export

Upload images / choose fonts

Mobile editing & camera use

Project workspaces

Team progress & collaboration
What's unique about Canvanizer 
Although it lacks intuitive design, somehow that's also what's unique about Canvanizer. Its simple, yet the approachable design is what helps your team quickly move through the ideas you are validating. There are a lot of templates you can choose from, that will save you some time in the very beginning of your business model planning process. 
Pricing 
Classic – Free forever, offers standard Canvanizer templates that anyone can access if you share the link with them. 
Startup – $25 per year, you get one project workspace, you can include 10 team members to collaborate with, unlimited canvases. 
Standard – $75 per year, you get three project workspaces, 50 team members to collaborate with, upload images to your canvas and choose fonts, color labels, unlimited canvases. 
Business – $250 per year, you get ten project workspaces, 50 team members to collaborate with, upload images to your canvas and choose fonts, color labels, unlimited canvases. 
3. Upmetrics
Upmetrics, like IdeaBuddy, is a business planning tool, rather than a business model planning tool. It helps you plan and grow your business through planning, strategizing and collaboration. One of its features also includes the Canvas Modeling feature you can use for business model planning. It has several different business model canvases you can use to create a one-page business plan for your idea. 
Unlike Strategyzer, Upmetrics takes you through the whole process of business planning, from a one-page business plan to create an investor-ready business plan and pitch.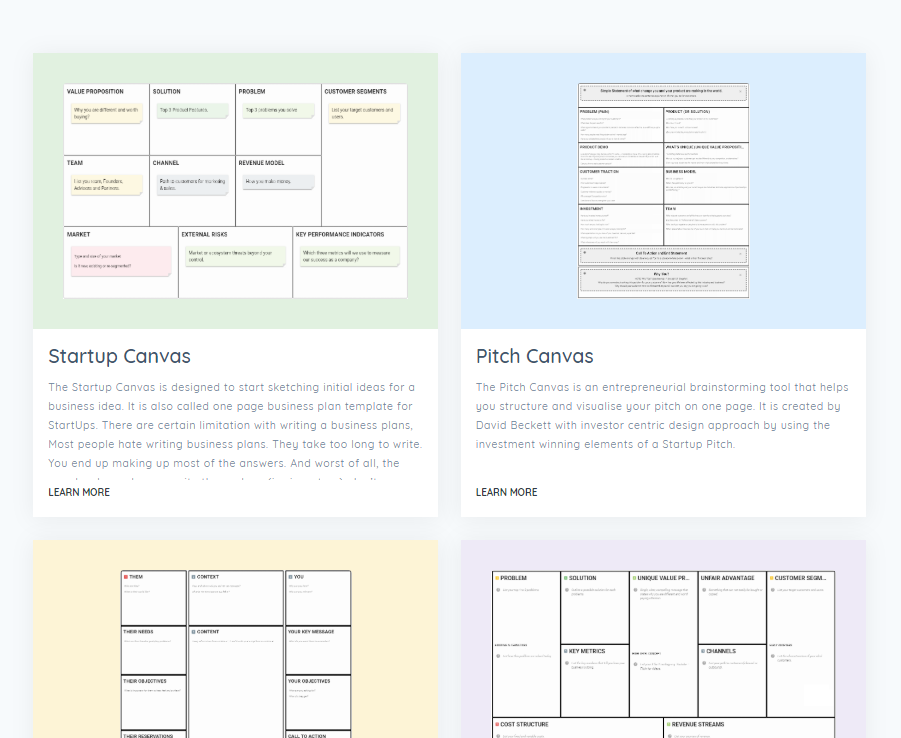 Features 
Business Plan Builder

Pitch Deck Creator 

Financial Planning 

Canvas Modeling 

Pinboard 

Invite collaborators 
What's unique about Upmetrics
Upmetrics has a neat Pitch Deck Creator that helps you create a great pitch for your potential investors. You can make it easily by using the Business Pitch Templates that make sure you've included all important slides to create a brief and impactful overview of your business.
Pricing 
No free trial – There's a 15-day money back guarantee 
Solo – $9 per month, all features available, one workspace, two members per workspace, five canvases per workspace
Team – $14 per month, all features available, five workspaces, five members per workspace, eight canvases per workspace
Premium – $49 per month, all features available, unlimited workspaces, unlimited members per workspace, unlimited canvases per workspace
4. Leanstack
Leanstack is not so much a tool as it is a group of resources for entrepreneurs. Its key product is Lean Canvas which is a one-page business plan template that helps you develop your business model story. It utilizes the principles of Lean Startup methodology. Lean Canvas takes out the need to develop complex business plans, just to find out that your idea isn't profitable. It helps you determine which ideas should actually be developed further and which ideas should be discarded. 
Compared to the standard Business Model Canvas it offers more actionable steps in developing your ideas such as "Problem" and "Solution". Why is that more actionable? Because most businesses and startups fail because you are solving a problem that doesn't exist. To make a product that will sell, you have to make it so it actually solves your targeted customers' problems.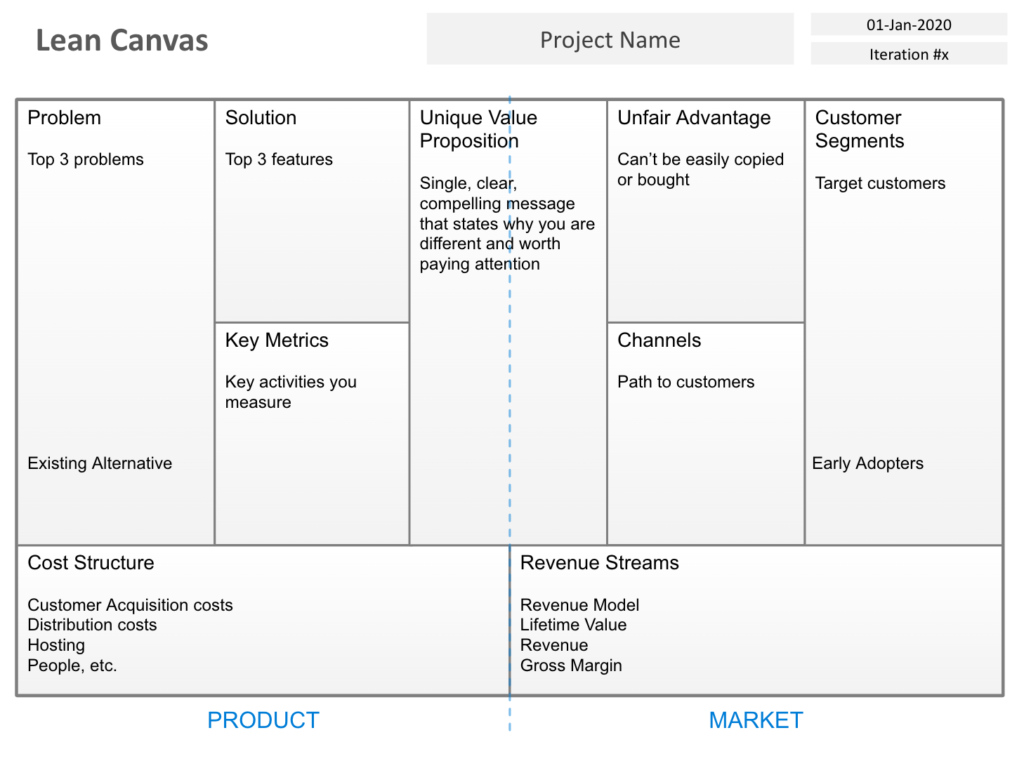 Features 
Step-By-Step Playbooks

Lean Canvas Tool

Lean Canvas

Traction Roadmap

Customer Forces

Goals

Lean Sprints

Online Community

Tools and Coaching 
What's unique about Leanstack
Leanstack is an overall experience aspiring entrepreneurs go through. Apart from the tools, you'll get a thorough course on what you should think about before you start creating your product. This will help you save time on ideas that may not be worth developing further. In the words of Lean Canvas creator, Ash Maurya – "Life's too short to build something nobody wants". 
Pricing 
Free trial – There's a 30-day free trial 
LEANSTACK Academy – $120 per month, you'll get access to Lean Canvas, Traction Modeler, Sprint Board, Playbooks, Webinars and Community. 
LEANSTACK Pro  – $25 per month, you'll get access to Leanstack tools: Lean Canvas, Traction Modeler and Sprint Board. 
5. MIRO
MIRO is a visual collaboration tool for teams. It's like a virtual whiteboard for your team. It can be used for many different cases, such as meetings, mind mapping, concept mapping, and of course, business planning. 
One of the templates they offer is a standard BMC template, which you can use to collaborate with your team. So, MIRO isn't providing a new way of business model planning. It is a tool that helps you and your team collaborate, which is quite easy and intuitive.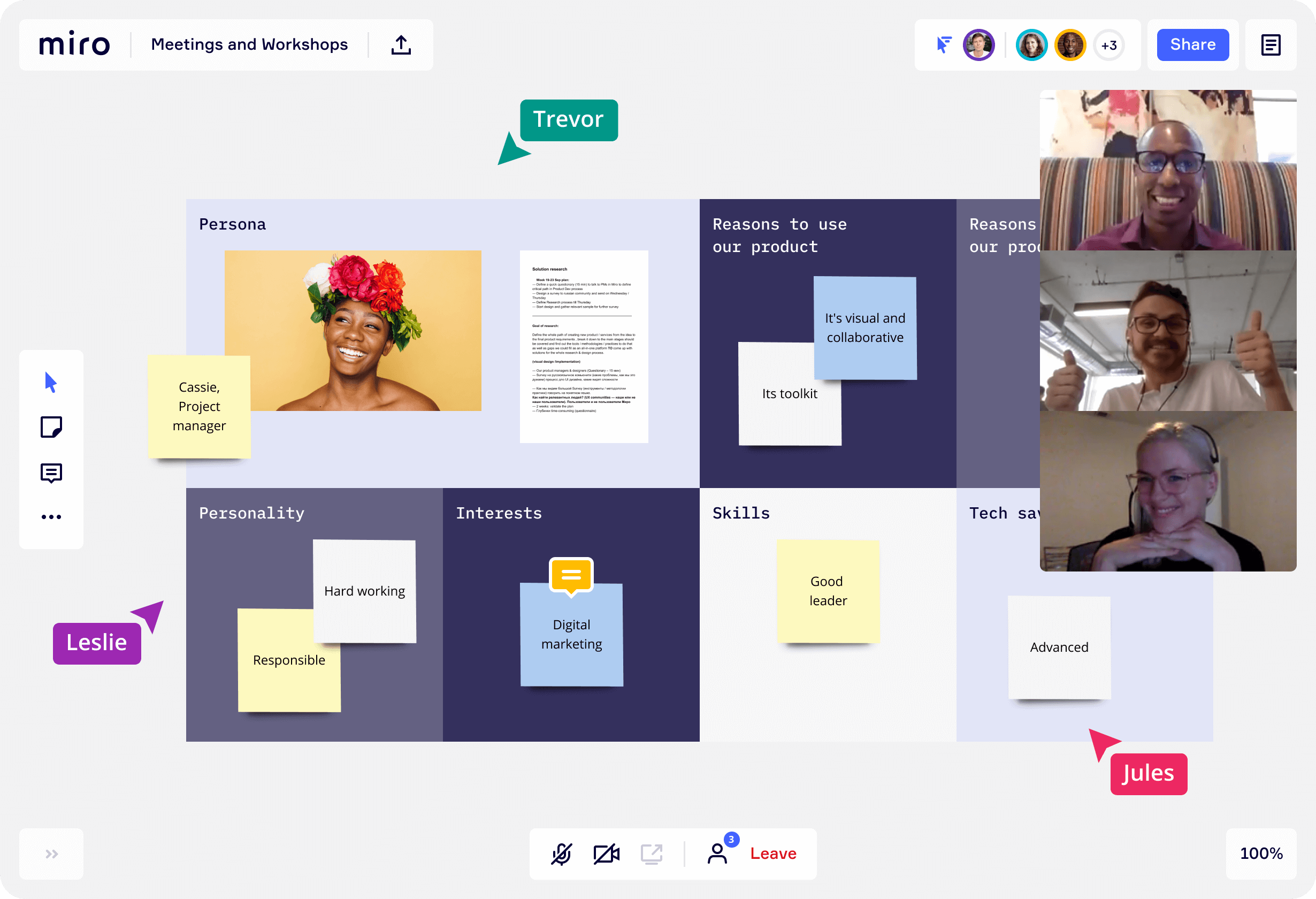 Features 
Drawing

Marker Colors

Mind Mapping

Templates

Drag-and-Drop

Collaborative Editing
What's unique about MIRO 
MIRO is a great collaborative tool for remote teams. Live brainstorming sessions really can't be replaced, but MIRO is the second best thing. Brainstorming new business ideas in MIRO is great because it provides your team with multiple options for real-time or asynchronous teamwork on an online whiteboard.
Pricing 
Free – you get access to 3 editable boards, anonymous board viewers, premade templates, core integrations and basic attention management
Team – $10 per member per month, everything included in the Free plan with unlimited boards, private board sharing, unlimited anonymous board editors, unlimited external board viewers and commenters, high-resolution exports, custom templates, and remote meetings toolkit. 
Business – $16 per member per month, for teams sized 20+ with full functionality and SSO
Enterprise – Contact sales, Multi-team setup for centralized company-wide account management, advanced security, including, domain allow listing and audit logs, advanced permissions, and administration
Strategyzer alternatives: Conclusion 
Choosing the best among these five Strategyzer alternatives is not an easy task. What you will choose depends on the type of business idea/project you are working on, and its current stage. If you're just looking to sketch out a few ideas to see if they're relevant, and you don't want to pay a lot for it, then Canvanizer might be the way to go.

But if you develop your idea in a longer period, and you want to add more details to it, we recommend choosing IdeaBuddy. It's a comprehensive tool that will provide you with a business canvas (Idea Plan) to sketch out your idea, and build a business model.
Once you determine which idea is worth pursuing further you can develop your business idea from the very beginning to a full, investor-ready business plan – all that in one tool. 
But, don't believe our words, see it in action, start a free trial today or get a lifetime plan, and start working on your ideas.