So, you have a brilliant business idea.
In this case, any time you spend in the planning phase before the actual launch is definitely a good investment. This will give you the opportunity to carefully think through every step of building a company and eliminate the risks that lie ahead. 
In the planning phase, you can hire expensive consultants or try to craft a business plan on your own. But, the most convenient option is to use online business planning software. This kind of tool will give you direction, and support you in understanding every detail of your future business. Also, it helps you get a professional business plan that will attract potential investors. 
When we talk about currently available business planning tools, the most popular one is Liveplan, but in this article, we will cover a few Liveplan Alternatives, which could be interesting to young entrepreneurs. 
What Is Liveplan?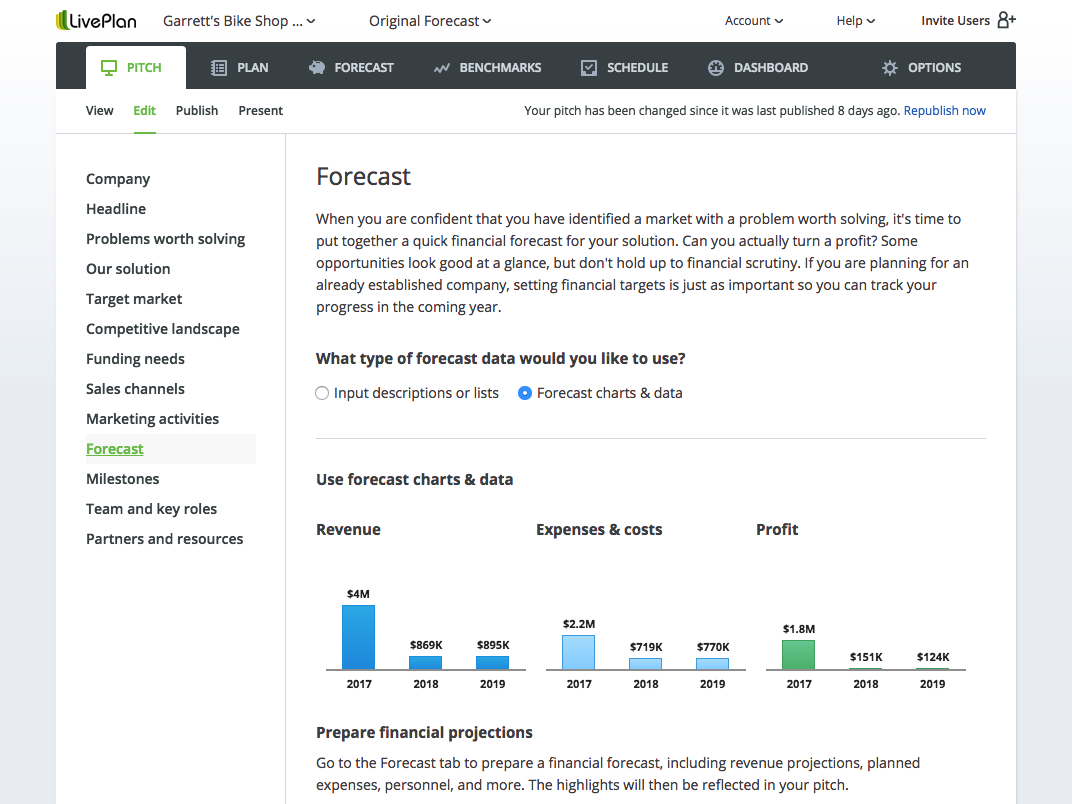 LivePlan is a web-based business planning app from Palo Alto Software. It enables entrepreneurs and small business owners to build a detailed and actionable business plan, make budgets and financial projections, and create a one-page pitch deck.
Apart from this, it also offers a large base of business plan samples. Plus, it has a performance tracking feature where you can track and compare business actual results with the financial goals you set.
Liveplan is definitely a neat and handy tool for creating business plans and building investor pitch decks, which are useful in the final stage of business planning. However, we found a few things to be missing and discovered some flaws that could be improved.
The Cons of Liveplan
Here are some of the important limitations and drawbacks of Liveplan:
Limited planning options – Liveplan covers only the last mile of business planning, but it's not so beneficial to aspiring entrepreneurs without prior business experience.
No mobile version – In the year 2020, when everything happens via mobile phone, these guys didn't make a mobile version of their app.
Steep entry price –

With a monthly subscription for one company starting at $20 per month, we found that the price is a bit on the high end.

No free trial – Although there's a refund policy, they don't offer a free trial for users who simply want to take it for a test ride.
Outdated design – The graphic appearance and the whole vibe of this app feels like it was made for the Baby Boomers generation, and using it isn't much of a pleasure.
Top 5 Liveplan Alternatives In 2020
OK, we agreed that Liveplan is a quite decent platform for people who want to write a business plan and make a pitch deck. But we also observed that it's not suitable for all stages of business planning.
Also, it's not mobile-friendly, and it's a bit pricey.
And it looks and feels quite old-fashioned.
So, if this is not a perfect business option for you, let's look into the available Liveplan alternatives.
1. IdeaBuddy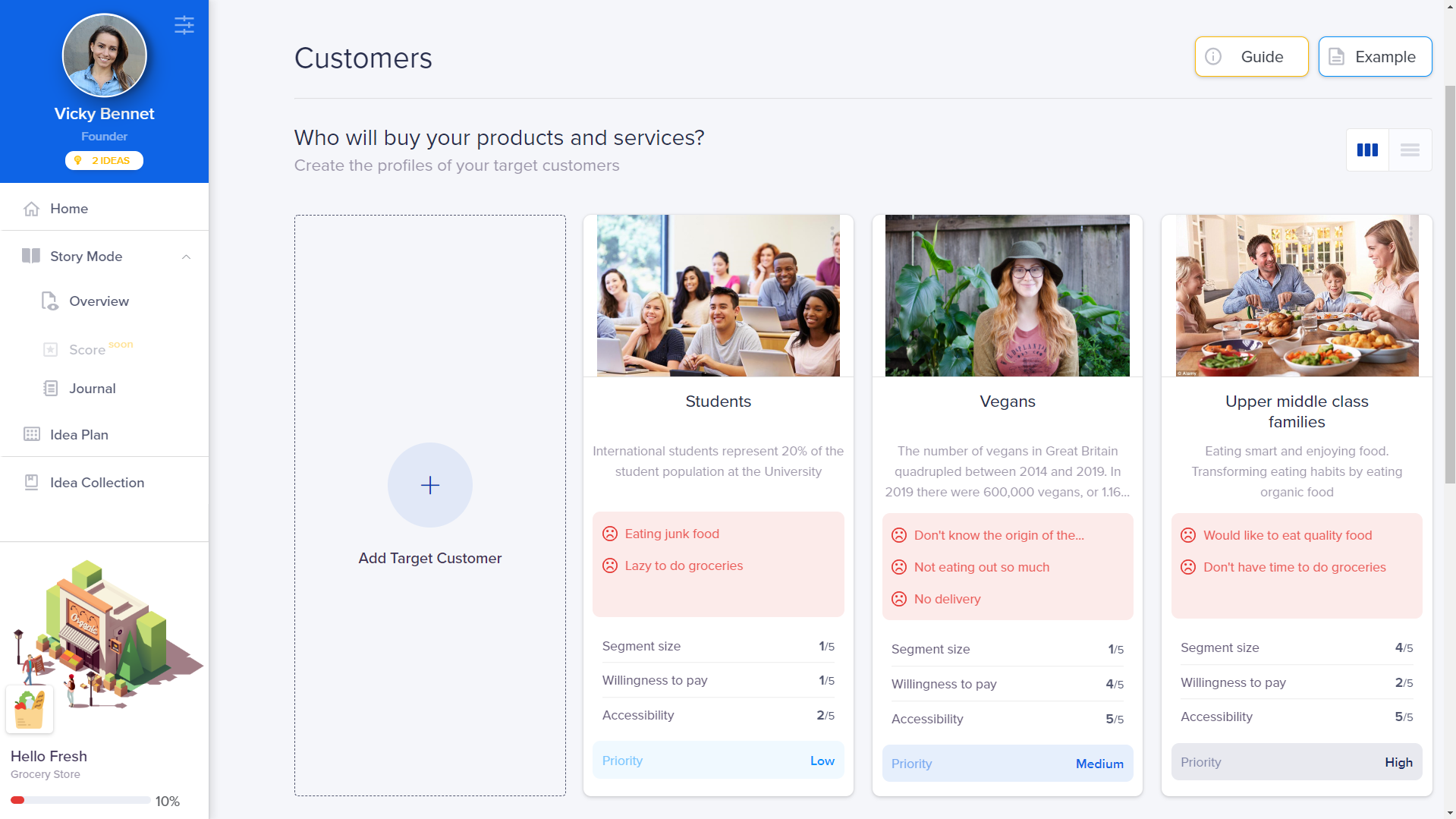 IdeaBuddy is an innovative business planning and modeling software that brings a breath of fresh air among the various business planning tools on the market.
At first glance, that's due to its simplicity and ease of use, as well as a stunning visual appearance. In addition, this web app is very versatile, as it helps aspiring entrepreneurs not only to craft a business plan, but to develop their business idea from any stage where they happen to be. 
So, if you're only sketching your idea, IdeaBuddy has its own business canvas — called Idea Plan — that will help you make a business model.
It's reminiscent of Business Model Canvas and Lean Canvas, but with its own flavor. Like with any other canvas, your goal is to build your business model by posting idea notes until you've covered all the elements of your business.
The next cool feature is Story Mode, which is a step-by-step guide that takes you through the five stages of the business planning process.
It helps you to create your marketing and sales strategy, define your target customers, compare yourself with the competition, and plan all the other elements of your future business.
IdeaBuddy has automated financials and calculators, which will help you outline your startup expenses, loan payments, profit margins, cash flow, and many other important financial metrics.
After you develop the idea through the Story Mode, IdeaBuddy documents the entire planning process and converts it into an investor-ready business plan, which is quite useful and hassle-free.
Features
Business canvas

Step-by-step business planning guide

Automatic financial projections

Business plan builder

Idea validation tool (coming soon)
What's unique about IdeaBuddy
The most unique thing about IdeaBuddy (apart from its visual appearance) is the business planning guide (Story Mode). It fills an important gap in the market by guiding you through all the phases of idea incubation. This covers making a business concept and conducting market research through all the activities related to business setup and forecasting future performance.
These features make IdeaBuddy extremely useful for aspiring entrepreneurs with no business knowledge and background. It is one of the best educational tools related to business planning and entrepreneurship, and that's the biggest strength of this innovative app.
Pricing options
Free trial: Yes, 15 days
Dreamer
Costs $9 per month (40% discount on yearly plan) and includes: business canvas, step-by-step business planning guide, financial projections, share and export capabilities
Founder
Costs $16 per month (40% discount on yearly plan) — everything included in Dreamer plan, plus a business plan builder
Enterprise 
Tailor-made plan for organizations and teams with more users
2. Bizplan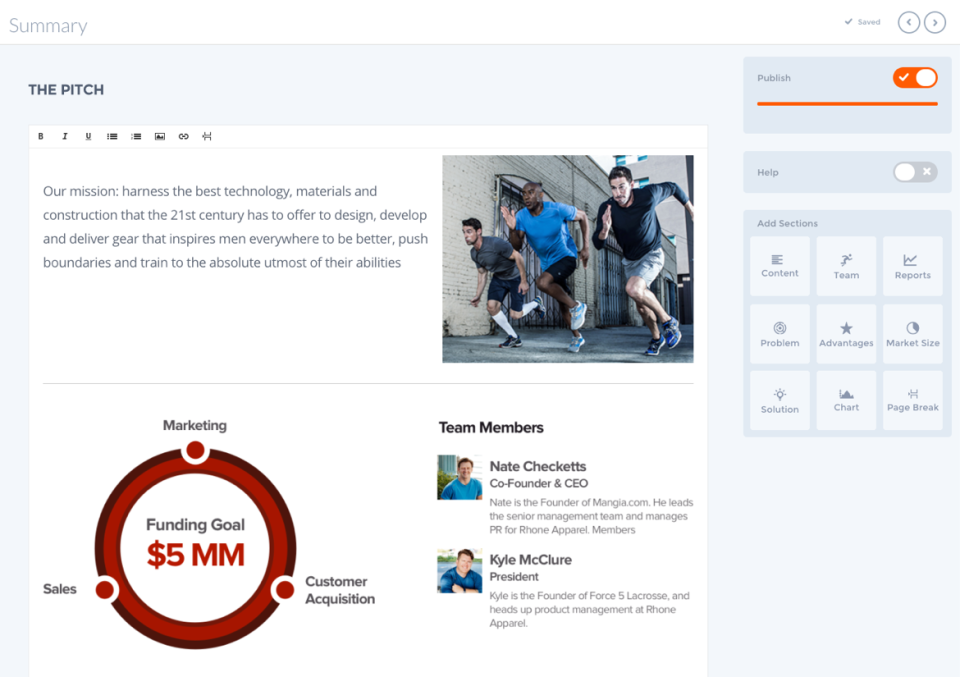 Bizplan is a platform with a modern take on business planning. It features different tools to help people create unique business plans. The platform lets users incorporate visuals into business plans and create attractive presentations.
Users can create a startup business plan that will focus on financials and make sure they are prepared to present their business idea to an investor. It offers the best financial tools, among which are calculators, budget-feasibility tools, and graph and chart generators.
However, even though it has an attractive design, functionality, and a step-by-step guide, it is not a full-fledged product. If you're not used to this kind of app, it can be confusing to use it, and overwhelming to cover all the aspects of your idea.
Features 
Business plan 

Progress tracker

Drag and drop templates

Revenue projections

Team collaboration 
What's unique about Bizplan 
Bizplan has an intuitive design that involves a step-by-step wizard to walk the user through the process of writing a business plan. With a guided builder, team and investor collaboration capabilities, automatic financial projections, and drag-and-drop modules, this tool has proven to be suitable for startups, entrepreneurs, and small businesses that want to develop business plans, both short- and long-term.
Pricing 
Monthly — $29 
Annual — $20.75 (billed at $249 per year)
Lifetime Access — $349 
The plans include over 600 masterclasses and online courses, access to startup experts for advice, a comprehensive library of guides and interviews, an early customer acquisition platform, modern business planning tools made for startups, an equity fundraising platform made for startups, and complete access to the forums and discussion groups.
3. PlanGuru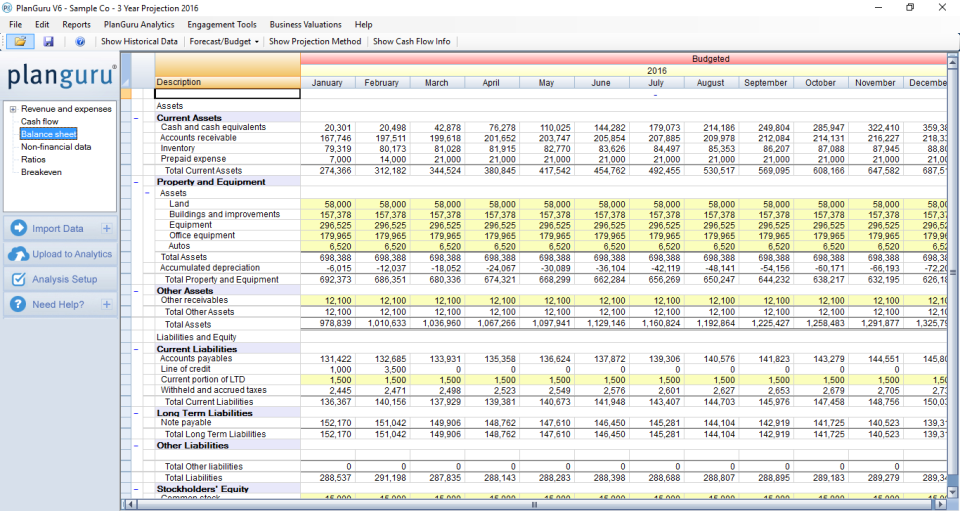 PlanGuru is a dynamic web-based software that helps small businesses and nonprofits with business planning and offers budgeting solutions. It helps small and medium-sized businesses take care of their financial planning, budgeting, and forecasting in a simple and time-effective manner. 
PlanGuru can also greatly help accountants prepare budget analysis, build financial forecasts, and take care of the kinds of financial constraints small businesses may be faced with. It offers a budgeting software that comes with tools that allow users to create and manage balance sheets, income statements, and cash flow statements, which is useful for accountants and entrepreneurs. Apart from its tools, it also offers an advanced reporting Excel add-in that lets accountants build reports and manage the PlanGuru data in an Excel sheet. 
Features 
Budgeting/forecasting

Advanced reporting Excel add-in

Cash flow statements 

Business validation 

Standard report export to PDF, Word, and Excel
What's unique about PlanGuru
PlanGuru's uniqueness lies in its tools. It combines a flexible framework with easy-to-use and sophisticated tools. The web-based software has a fully customizable interface that will help entrepreneurs, financial advisors, and accountants monitor the key financial KPIs they need to have in order to track business performance. And it comes with a cloud-based finance dashboard, detailed analytics, and a reporting tool. 
Pricing
Monthly — $99 
Annual — $899
Optional Complete Solutions — contact
Each plan includes a budget/forecast building application that has an integrated income statement, cash flow statement, and balance sheet, a web-based dashboard and reporting tool that provides analytics, an advanced reporting Excel add-in, and training and support resources. 
4. Cuttles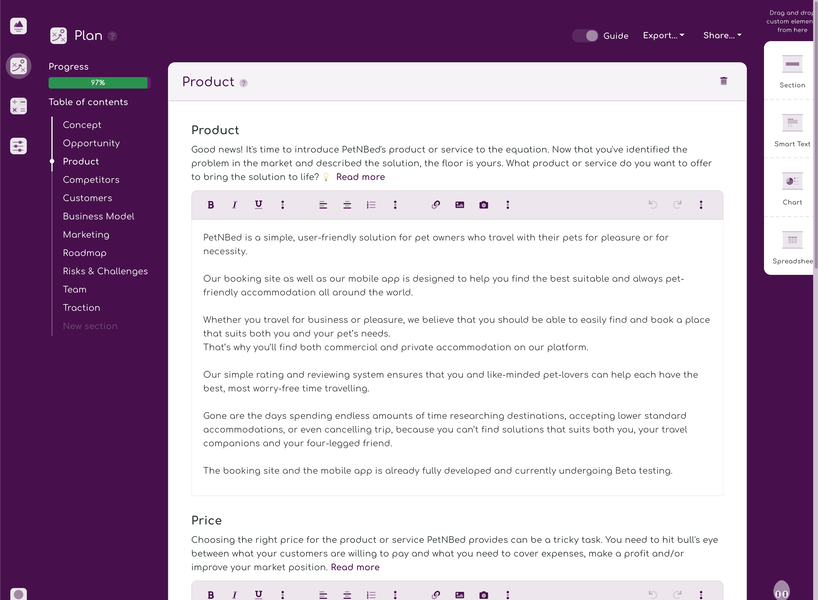 Cuttles is an online web app for writing business plans and turning ideas into profitable startups. Entrepreneurs and startups will get the help they need when starting their business through using a business canvas or by creating their business plans with budgets and other financial forecasts. 
The app aims to aid people in creating business plans that will present and validate their ideas. The one-pager offers a personalized business plan that has creative visual assistance, while the finance tool allows users to track their finances and budgets. 
Users can turn any idea into a business and meet potential investors with proper planning tools and resources. And they can track their progress and performance with a simple roadmap feature.
Features 
Business canvas 

Business plan builder

Budgets and forecasts 

Roadmapping tool
What's unique about Cuttles
With Cuttles, people can grow their ideas and create great business canvases and write unique business plans with budgets and forecasts. The app focuses on personalization, design, and great user experience. The uniqueness of this business planning tool is in its personalization that helps the creative process for teams. 
Pricing plans
Free trial: Yes, 14 days
Dreamer Plan — €15 per month, up to 1 startup and member, with all features available (canvas, business plan, team, budgets, roadmap)
Startup Plan — €30 per month, up to 1 startup and unlimited number of members, with all the features available (canvas, business plan, team, budgets, roadmap)
Unlimited Plan — €50 per month,for an unlimited number of startups and members, with all features available (canvas, business plan,team, budgets, roadmap)
5. Mural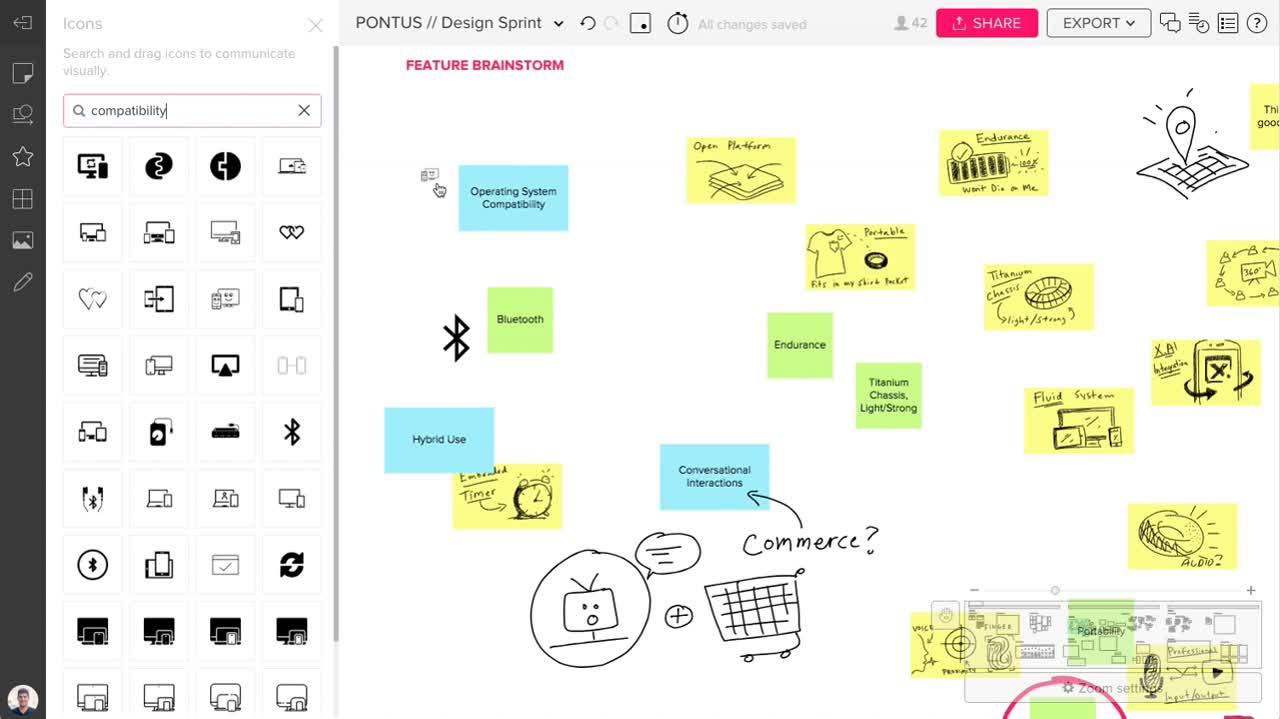 Mural allows creative teams to think and collaborate visually and solve any important problems they might have. It is a visual collaboration workspace, that any team can use. With an easy setup for creating diagrams and tools that facilitate meetings and workshops, MURAL is a great tool for both in-office and remote teams. 
Team members can post sticky notes and organize their thoughts in lists, diagrams, flowcharts, frameworks, and drawings that can help activate the team. MURAL is a great app for finding patterns and letting team members unleash their imaginations collaboratively from wherever they may be working.
Features 
Thinking canvas

Shared workspaces

Design thinking and agile frameworks

Integration with productivity tools
What's unique about Mural
MURAL helps innovative teams to think, brainstorm, and collaborate visually as a way to solve any problems they might have. It integrates with most of the tools people use in teams, and you can manage them all from one centralized dashboard. In addition, you can synchronously access your work from multiple devices and platforms, including all the popular browsers, iOS and Windows 10 devices.
Pricing plans
Starter 
$12 per month — 1–50 members can collaborate in a single workspace with unlimited visitors, facilitation superpowers, a library of frameworks and templates, GDPR & CCPA compliance, self-serve education resources, and on-demand support 
Plus 
$20 per month — 10–50 members can collaborate in multiple workspaces with unlimited guests, facilitation superpowers, single-sign on integration, GDPR & CCPA compliance, premier education, and priority support 
Enterprise — contact for price 
50+ members can collaborate in multiple workspaces with unlimited visitors, an enterprise-ready customer experience team, tailored education programs, custom template creation, private database instance, self-serve SSO, enterprise APIs, and API key management
. . .
Choose Among Liveplan Alternatives
So you're not satisfied with what Liveplan has to offer and you want to try something different?
We've provided you with enough alternatives to consider.
While Liveplan is good for making traditional business plans, it does not offer help with the early budding-idea stages of business planning. Other alternatives might be more appropriate for that phase. There we suggest you try IdeaBuddy, which can help you in incubating your idea before going to investors and lenders to ask for funding.
It is an easy-to-use tool with appealing graphics that makes business planning fun. And it comes with a step-by-step guide with relevant examples provided, which means that you don't have to be a business guru or financial whiz in order to use it.
So, what are you waiting for? Start your business planning today to pursue your dreams, since they will not come to pursue you!