Is there a better time to start a home business than now? Definitely not.
With the COVID-19 outbreak impacting our lives in unprecedented ways, research suggests that nearly 45% of people with full-time jobs have seen the outbreak impact the way they do business. And with many people working from home for the foreseeable future, starting a home business seems like a reasonable idea.
Today, we're going to look at some of the steps to starting a home-based business. By following these steps, you'll be able to kick-start your business with a solid foundation for success in the post-pandemic rebound.
Steps to start a home business
Here are the steps you will go through in case you want to start a home business:
Assess your ideas
Set up a schedule
Create a home office space
Research the market
Create a business plan
Promote your home business
After reading the article, you will have all the answers to help you start a money-making business from your cozy sofa.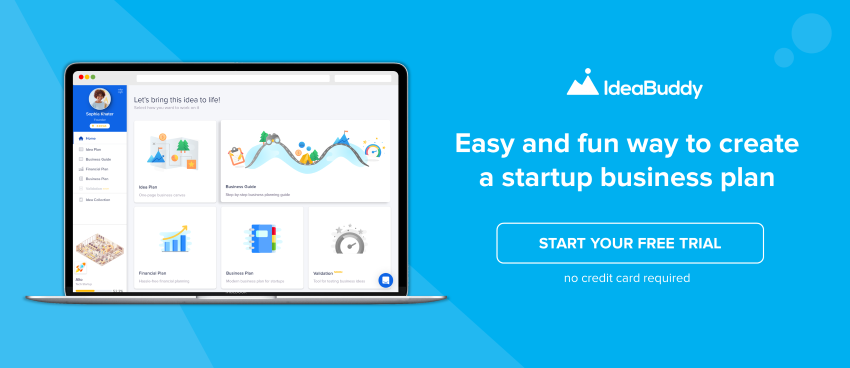 Assess your ideas
Before you start brainstorming ideas, it's important to keep in mind that some business models work well as home-based operations — and others don't. A few factors you need to consider are:
Your location
Your legal restrictions
Necessary licenses
Your work style
Needs of your family
For instance, you won't legally be able to open a shop and manufacture something if you're living in a residential area. And a client-based business involving a lot of people coming and going simply isn't practical from home, especially if it would negatively impact your family life.
The smartest thing to do is to write down all of your ideas, go over them one by one, and narrow them down. As you do so, here are a few questions you should ask yourself:
Is it feasible to run the business from home?
Does this business model require a separate workspace?
Does it require a lot of in-person meetings with clients?
Can the business be done better from home than on-site?
In answering all of these questions, you'll be able to shorten your list rather quickly and see what will work best.
Set up a schedule
First things first: you need to set up a schedule for yourself and make sure to stick to it if you want to get anything done on time. One of the main perks of working from home is having a flexible schedule. However, it's still important to have a routine.
As the productivity expert and best-selling author Claire Diaz Ortiz explains, it's important to set a morning routine in order to be productive at home. The beginning of your day anchors you and allows you to stay focused and consistent when it matters the most.
Even if you're a night owl, you should also consider changing things up because rising earlier in the morning has numerous benefits, especially if you're trying to be as productive as possible. By getting up early every morning, you'll be able to:
Enhance your chances of productivity and success significantly
Be a lot less stressed out and even healthier
Get things done and stop procrastinating as much
Be synchronized with business hours of clients and partners, if applicable
Is there an ideal time to get up in the morning? Not exactly, but if you want to get most of your work done early on, you should consider waking up as early as 4 am. Recent studies have shown that some of the most successful entrepreneurs get up to 75% of their work done in the morning, sometime between 5 and 9 am.
Create a home office space
The concept of "the workplace" is evolving in real-time. A recent Staples Workplace Survey revealed that only around 32% of modern employees spend all of their time in the office. Around 43% said that the option to work from home is simply a must-have in this day and age.
Since your home will be your workplace from now on, you should make an effort to make it look and feel professional. While this may sound silly at first, your office space actually plays a significant role in your work. A recent study published by the Network for Comfort and Energy Use in Buildings revealed that your workspace impacts your:
Overall job satisfaction
Physical and mental health
Concentration and productivity
You want your workspace to feel inspiring to keep you going with the successful home business goal in mind. That means you should take some visual cues from your old office to stimulate your brain and let it know you're in a place of work. Just as in any office, give it a few personal touches. For example, you can throw in some books, houseplants, and casual furniture to help you relax, breathe and feel connected to your space.
PRO TIP: You can find more tips and tricks in our post on the best home office setup.
Research the market
Having a good idea can be a blessing and a curse. People with good ideas tend to rush to the market in hopes of capitalizing on their idea as soon as possible. Also, the fear of other companies coming up with a similar idea and launching it first plays a major part in this tendency to cut corners.
The result is that many people try to start their business without conducting proper market research first. As you might've guessed, this can be detrimental to their chances of success. Large corporations aren't immune to this syndrome either. For example, Kodak reportedly lost $10 billion between 1996 and 2011 due to a lack of market research.
Of course, you still need to have a business in the first place to lose money. Without proper market research, your business may even fail right from the start. CB Insights did a post-mortem of 101 startups to uncover the biggest reason new businesses fail. Here are the top five reasons:
Lack of market need (42%)
Running out of money (29%)
Wrong team members (23%)
Being outcompeted (19%)
Pricing complications (18%)
Market research can help you avoid at least three of the five reasons we listed above. One could argue that you won't have to worry about running out of money if your product or services are highly needed on the market. With market research, you'll easily discover the angle for your service/product, find a way to reach your target demographic, and give yourself an edge over your competitors.
Create a business plan
Writing a business plan may seem like a technicality to some people. Why do you even need one if you're not planning to get a loan, anyway? Despite what you may think, stories of makeshift business plans written on a napkin are mostly myths. Most businesses are launched with well-planned and, more importantly, well-written business plans.
Don't believe us? A survey of over 3,000 entrepreneurs revealed that having a business plan nearly doubles your chances of success. Yes, having a business plan correlates with increased success in each of these categories:
Getting a bank loan
Securing investment capital
Making major purchases
Recruiting team members
Growing your business
What's more, an overall lack of planning is what dooms many startup businesses. Just consider this: Dun & Bradstreet's research indicates that lack of planning is the number one reason why small businesses fail within the first year.
The point here is, no matter how good your business idea seems, you won't be able to present it to a general audience without proper planning. That means calculating your expenses, doing a competitive analysis, projecting sales, and writing everything down.

Promote your home business
Spending on marketing is far more important than many first-time entrepreneurs realize. Even if you're just a freelancer, you still need to reach potential clients and inform them about the services you're offering. The reality is, your business simply won't get far without investing time and money into advertising and marketing.
Take social media for example. While everyone knows that without a social media profile, your business is good as non-existent nowadays, more than 40% of small businesses actually depend on social media to drive revenue and almost 45% require it to spread brand awareness.
How much should you spend on marketing? That depends on several things:
Size of your business
Overall business expenses
Type of business you're running
Your business' dependence on clients
As a new business, however, you should consider spending more on marketing during the first year. An established company spends between 6% and 12% on it. A new company, on the other hand, should spend at least 12%, preferably around 20%.
Thankfully, you don't actually need to spend a fortune on your marketing to run a successful home business. A vast majority of businesses – around 47% to be exact – spend less than $10,000 per year on marketing. With a lot of cheap options out there, you can actually get decent awareness, revenue, and ROI from a $5,000 investment.
Start a home business: final words
Thousands of businesses fail every year because the owner gets discouraged after a disappointing period. You can save yourself a lot of discouragement by doing your research, targeting the right group of people, and sticking to your plan.
Give yourself an extra boost by using IdeaBuddy to develop your idea in a structured way that will increase your chances of having a successful home business.