One-page business plans come in handy when you want to take your business idea for a test drive.
There are numerous models available, with Alexander Osterwalder's Business Model Canvas serving as the poster child for business planning tools. It's been over 15 years since Osterwalder's model first appeared and a lot has changed in the meantime. Today's businesses need to be a lot more nimble and agile. Hence, numerous business modeling tools spring up to support the companies on route to greater market competitiveness.
One of the adaptations of the original Business Model Canvas are Lean Canvas and Idea Plan by IdeaBuddy. Both are built for lean and agile startups that need to ship fast and adapt their roadmap on the go while staying better aligned with market trends.
Lean Canvas vs Idea Plan 
In the first part of our Clans Of Plans series today we put side by side Lean Canvas against Idea Plan from IdeaBuddy. Here's what you'll learn:
What's a Lean Canvas
How Lean Canvas differs from the Business Model Canvas and why it's better
When Lean Canvas might not work
What's Idea Plan
How Idea Plan stacks against Lean Canvas and when to use it
Which one is better: Lean Canvas or Idea Plan
What is a Lean Canvas?
Lean Canvas is a one-page business plan template that helps founders work their way around the most critical aspects of starting a business. They range from problem and solution defining, to mapping out channels of reaching customers and pinpointing key metrics, analyzing cost structure and revenue streams, while always striving for a key differentiating point.
At its core, Lean Canvas is designed to allow entrepreneurs to map out their business efficiently. Its creator, Ash Maurya, wanted to focus in particular on those business aspects that bore the greatest risk. That way, entrepreneurs would have an actionable plan that could be implemented right away.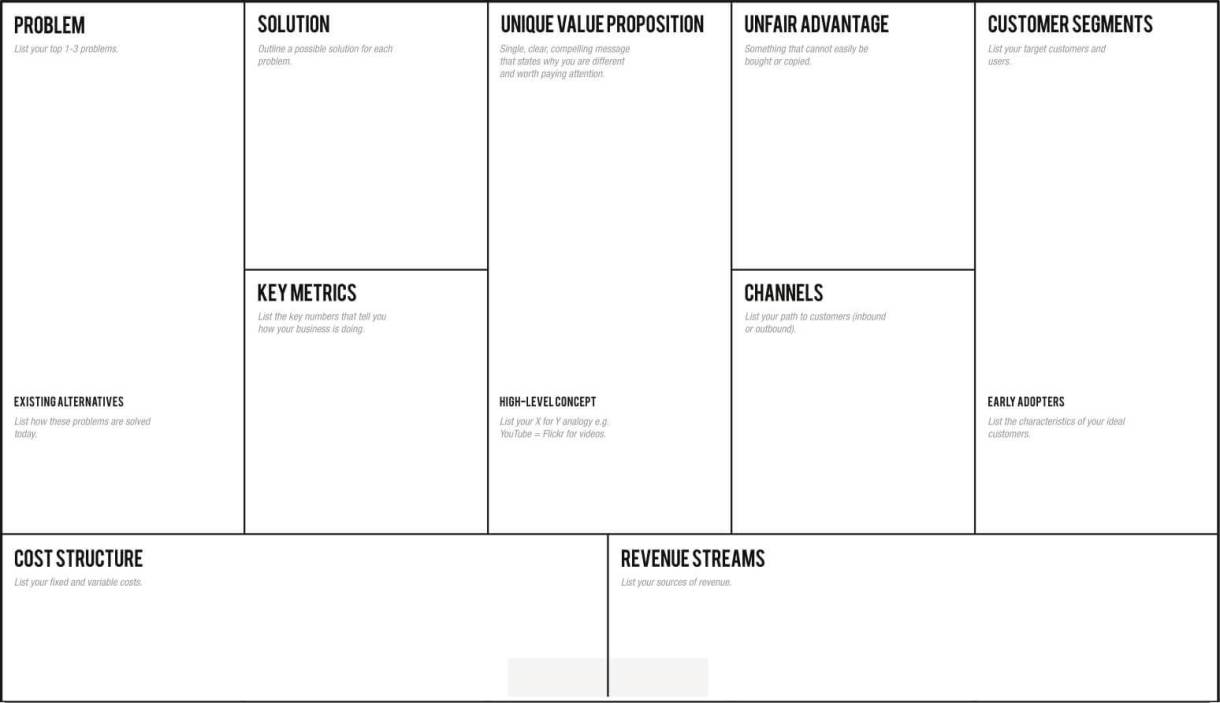 What's the difference between Lean Canvas and Business Model Canvas?
So, in order to stay economical and focus on entrepreneurs, or the internal business aspects, some parts of the traditional Business Model Canvas had to be removed. Key partners, key activities, key resources, and customer relationships gave way to the problem, solution, key metrics, and unfair advantage.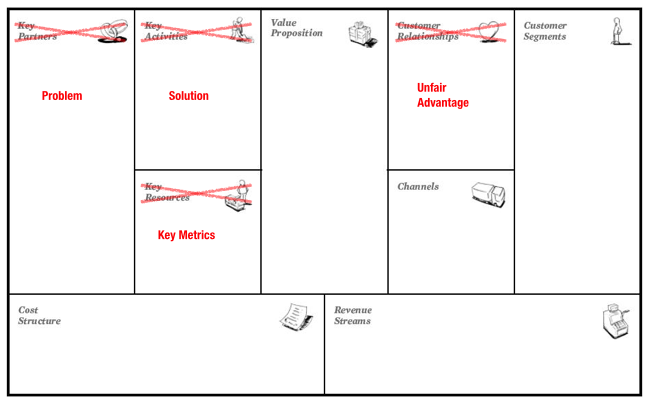 Problems instead of Key Partners
First, by removing key partners and adding in key problems, entrepreneurs can focus more on the key tenets of their business. This is a change that often causes a lot of debate. While business partners can make all the difference in a venture's market longevity, for lean startups that are still finding their footing and refining their product, focusing on partners in the first take could be a waste.
Instead, by focusing on 1-3 main problems that they want to solve, entrepreneurs can stay highly customer-centric. It often happens that startups fail for building the wrong product. It's more sensible to dedicate the bulk of your resources in the infancy of your venture on diving deep and finding key problems that your target audience is facing. After that you can closely monitor the problem evolve and respond accordingly.
Solution instead of Key Activities
Once the problem is well defined, it is easier to shape a fitting solution. But notice how the solution box is a lot smaller than the problems box. The reasoning behind this, according to the Lean Model Canvas creator, was to keep entrepreneurs constrained. Often, startup founders put all their passion into the solution box, sometimes without objectively assessing its shortcomings.
Hence, by keeping the solution box smaller, they are reminded to stay focused on the problem and continuously assess whether the solution fits them. Problems should always come first, solutions second.
So, what became of key activities? While key activities certainly affect a business' roadmap, they are less of an internal aspect and more focused on how the outside world sees the venture. Plus, key activities need to derive from the solution. That's why they are actually an overhead in the early stages of a business. Key activities are ever-evolving and flow naturally from the solution. But they aren't mission-critical to be defined in the first iteration.
Key Metrics instead of Key Resources
While resources are more abundant today than at the time of the creation of original one-page business plans — think internet, cloud, and the global market, all of which make it tremendously easier to ship a product — metrics are much riskier.
Without facing the key metrics in the early stages, entrepreneurs could end up squandering away precious, and often scarce, resources. They'll be fixing and optimizing those aspects that don't make the difference. Refinement helps the business grow, but this doesn't happen when the business still needs to do the groundwork.
This way, Lean Canvas requires entrepreneurs to stay bent on digging deep for the right metrics. The ones that correspond the best to the problems identified in the very first step.
Unfair Advantage instead of Customer Relationships
Given that he is a strong advocate of including customers in business/product development from the get-go, it may come as a surprise as to why Ash Maurya decided to leave customer relationships and include unfair advantage.
As he puts it, "[identifying the appropriate path to customers is]… better captured by the Channels box." So, while customers and their problems lie at the core of a business, Lean Canvas focuses more on reaching these customers through adequate channels. That takes a lot of effort to get right.
Meanwhile, the unfair advantage, which in all honesty is seldom found on day one, should encourage forward-thinking on the part of entrepreneurs. It should inspire them to reach a point where they are unmistakably distinctive from the rest. After a business takes off, fast-followers might try to copy the business and that's where the unfair advantage kicks in. The aim now is to defend the entrepreneur from becoming swarmed with lookalikes and lost in the noise of all too similar solutions.
When Lean Canvas Might Not Work
While the Lean Canvas provides ample support to businesses in the early stages of development, it also leaves room for serious cracks in the fabric of the business plan. This especially holds true for first-time founders. They may find it difficult to navigate through the intricacies of the agile/lean landscape if they have not seen it in action before.
But even more importantly, the lean model canvas might lead to excessive navel-gazing, leaving out the wider scope of external factors such as partners, market trends, competitors, resources.
Being overly 'entrepreneur focused', the Lean Canvas tends to overemphasize the internal focus. That reduces the importance of the surrounding business environment, resulting in non-feasible business ideas (by choosing not to focus on resources) and less strategic thinking (reacting to the customer, not acting and guiding them through the life cycle).
Overall, this might lead to an ill fit between a seemingly great product and a sizable audience, due to wrong context, bad timing, or oversight of market/business environment constraints. So, let's see how first-time founders can still make use of Lean Canvas principles while taking the opportunities and limitations of the business environment into the equation.
Enter: Idea Plan.
What's Idea Plan
Idea Plan is a business model template that works great for less experienced founders.
In terms of its structure and purpose, Idea Plan resembles agile business plans, in that it allows you to first focus on core aspects of your work. Once you get them down right, you expand into other aspects of your venture.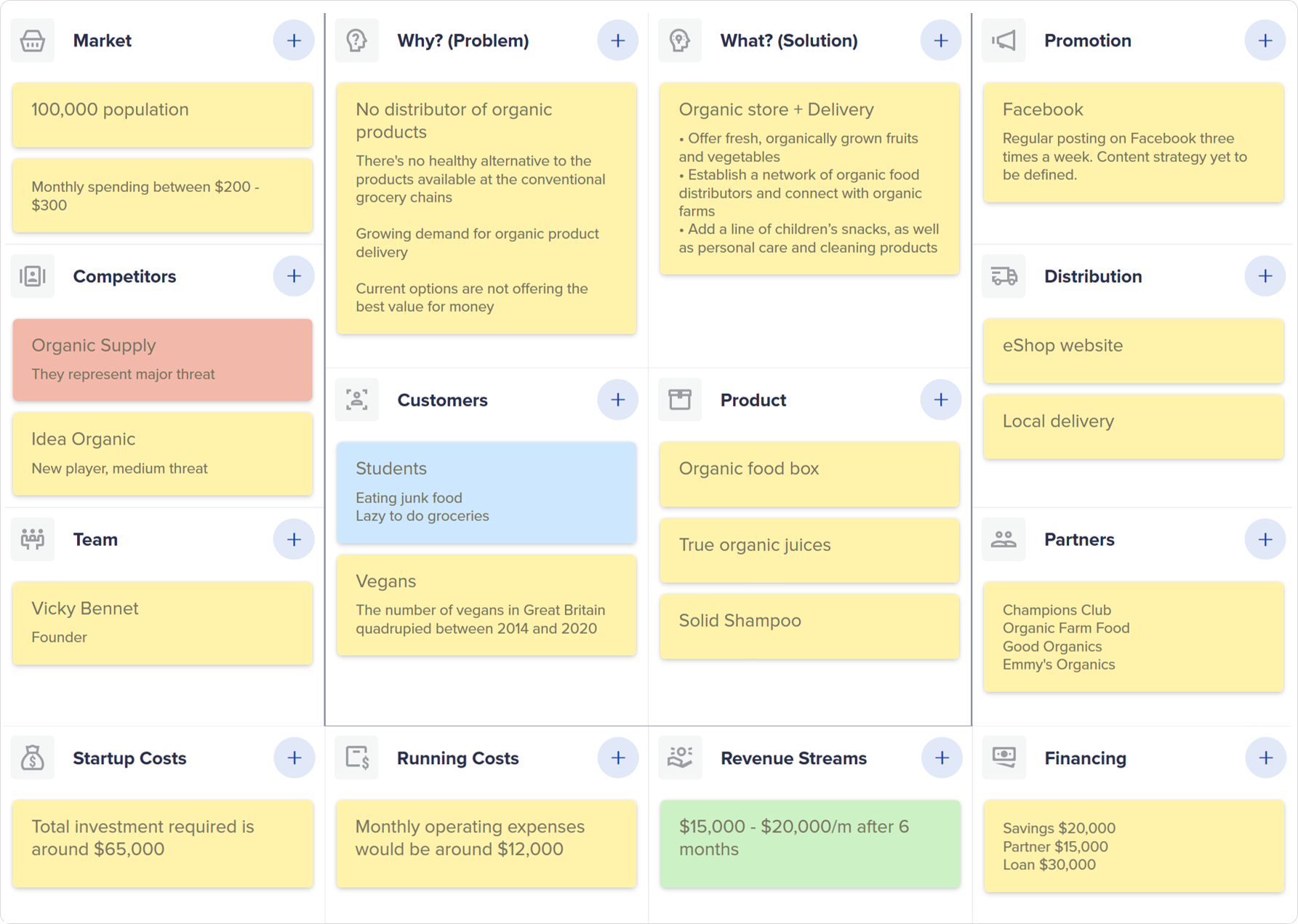 What's great about this "core aspects first" approach is that it strikes a balance between lean principles but leaves enough scaffolding for entrepreneurs not to overlook external constraints.
Idea Plan vs Lean Canvas: When to Use It 
Simply put, where Lean Canvas takes a minimalistic approach, discarding any non-lean intruders from the limelight, Idea Plan works as a modular business model template.
It guides the founders through the essential blocks first, while leaving the option of external factors and guiding the entrepreneurs through them as well.
Starting from the center, founders first determine the key business model blocks (following the lean principle), moving out towards less central blocks. That way, Idea Plan helps founders first determine the essential parts of their business and then work with the external or less critical aspects as well.
This allows entrepreneurs to work iteratively through their business model, without discarding blocks that only appear peripheral. On the contrary, this can greatly sway the direction in which the business will evolve.
Idea Plan — Building blocks
Similar to Lean Canvas, Idea Plan starts with problems and solutions. But unlike the Lean Canvas, Idea Plan visually emphasizes the importance of four key blocks
Problem — focusing on unmet needs and equally important the market problem that you want to solve.
Solution (aka What?) — the response to the problem or how you plan to satiate the unmet market needs. The difference is that the Idea Plan also emphasizes the uniqueness of your product in this block. That might help integrate that uniqueness with your product from the start.
Customers — Idea Plan helps founders focus on the most important clients. Lean Canvas walks them through customer segments overall, which again might prove like a stumbling block for less experienced founders.
Product — this block corresponds to the Unique Value Proposition in the Lean Canvas terminology. Or, looking at the solution from a different angle, i.e. the value that the user will get from your product.
Additional blocks
In addition to these four central blocks, Idea Plan adds several more business aspects that give a wider context to business development, but are missing or insufficiently emphasized in the Lean Canvas
Market — here, Idea Plan invites you to identify the target market, and maybe more importantly, to analyze its growth stage. This is useful to determine how well your envisaged solution fits the market that it aims to serve.
Competitors — Lean Canvas focuses only on the business in question, without delving into the realm of competition. For someone with little experience in a particular niche/industry, this could be disastrous. Without knowing the competition, founders might miss out on a major decisive factor in how their product is built or served to the target audience.
Team — Idea Plan adds another critical business aspect, closely related to the Solution block: the team who will work on the product. This is quite useful to know from the get-go. It allows founders to strategically deploy their strengths and understand potential shortcomings.
Other advantages of Idea Plan
Another important difference between these two business planning tools is that Idea Plan has separate blocks for startup costs and also running costs. These should correspond to the blocks on the right side of the canvas — financing and revenue streams.
This can come in handy since it lets you easily identify whether you will have enough funds to cover up your initial investment and whether your revenues will be sufficient to cover your running (operational) costs. Other business plan templates mostly lack this feature which can prove quite useful a lot of the time. That is especially true when tidying up the financial side of your business.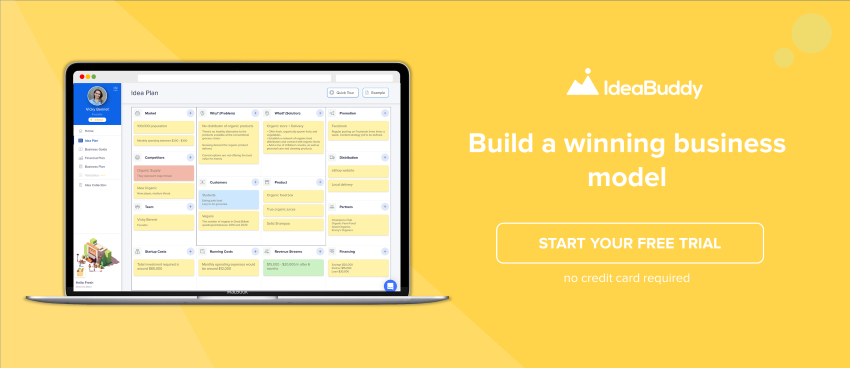 Lean Canvas vs Idea Plan: The verdict
The right tool can amplify your efforts and allow you to produce better results.
So, which of these one-page business plans to choose?
In a nutshell, if you are more advanced in building business models, and you want to stay minimalistic, Lean Canvas could be a good option for you.
But, Lean Canvas is not the best solution if you want to add more information about your business idea. In case you want to create a business model, but also to analyze the external elements of your future business, then Idea Plan is the right choice.
The best thing with IdeaBuddy is that the story doesn't end here, but once your one-page business plan is prepared, you can take your idea to the next level and develop it in detail by using their Business Guide feature.