Starting a full-fledged clothing business from home may sound very daunting for creatives – but it's far from impossible, especially when following a comprehensive step-by-step guide like this one. 
It's going to take a creative and business mindset to face and persevere through the different challenges of starting this type of business, but if you're willing to learn, you'll be able to transition it from a small home business into a long-lasting business with ease.
The designing aspect of it – we're leaving it up to you. As far as everything from the business side is concerned – we've got you covered. 
We've outlined this ultimate guide by following the methodology used in Business Guide, which is the step-by-step guide for developing business ideas that you can use for free if you sign up for our app, IdeaBuddy.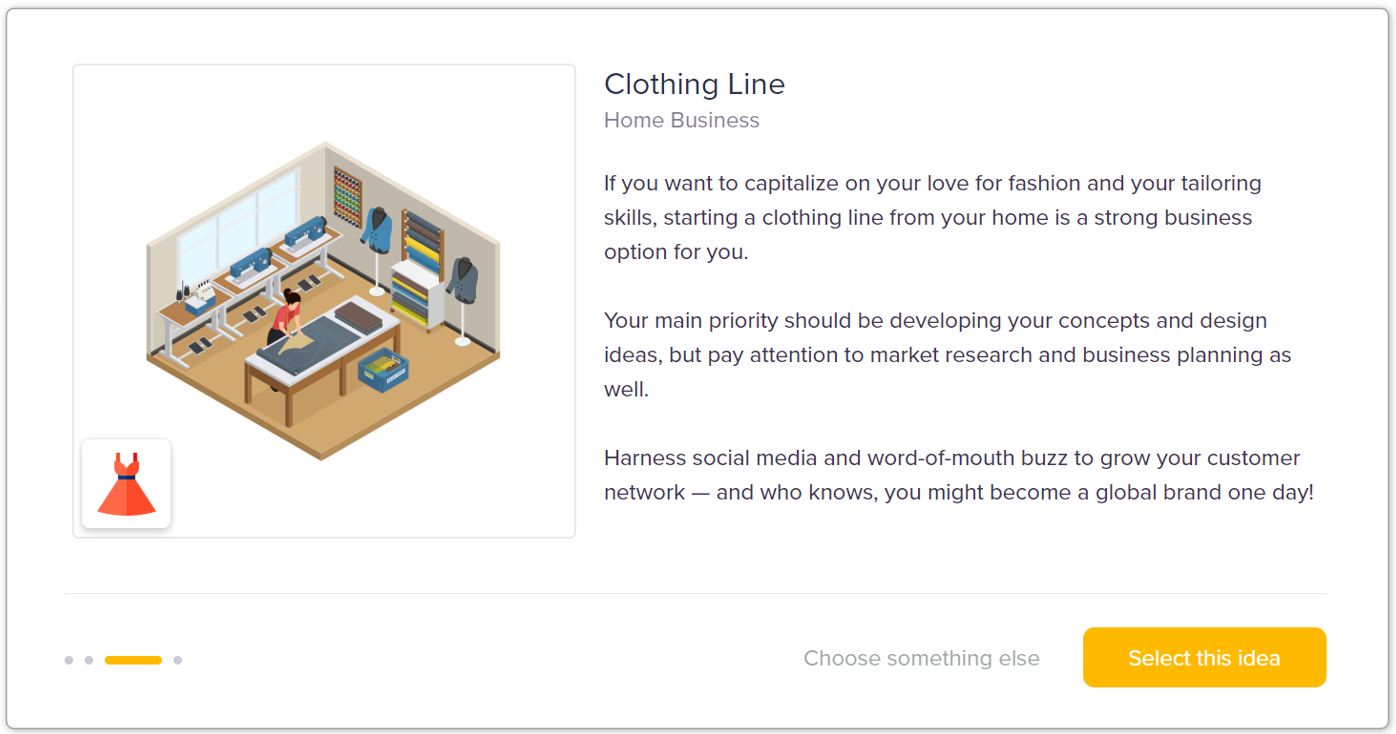 There is a lot to go through, so without further ado – let's dive into it.
What's covered in this guide 
Start with your ide

a

Define the clothing collection 

Choose how to promote your products

Decide how will you sell your clothes

Find clothing manufacturers and other partners

Validate your concept before starting production 
Define the market size and its growth rate

Identify your target audience

Analyze your competitors

Conduct a SWOT analysis

Calculate your market potential
Calculate the total investment needed

Explore different types of funding

Build your management team

Define staffing needs and expenses
Make the revenue estimates 

Understand your direct costs

Set your marketing budget

Estimate other overhead costs

Calculate your profit margin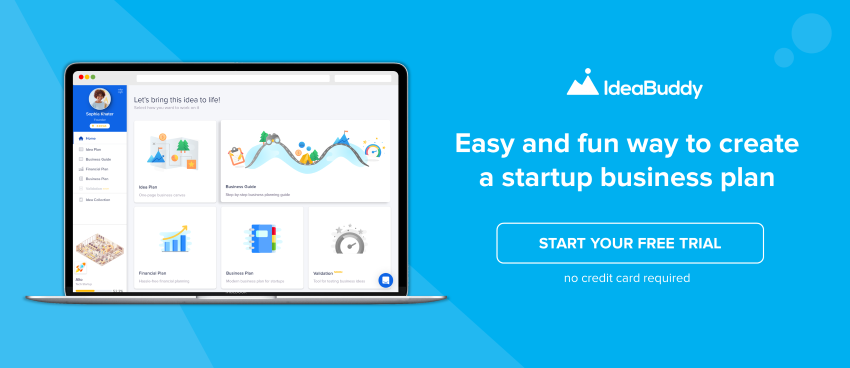 Chapter 1: Defining your clothing concept
Start with your idea
The current clothing market is highly saturated with products of many different kinds and quality levels targeting a variety of niche audiences, so the first thing to do is to find the crowd who needs the clothes you plan to create.
If there is an unmet demand on the clothing market, be sure you are the one to take advantage of it and offer the kind of attire that will put a smile on people's faces!
Do you see your niche in the lack of plus-sized clothing for certain subcultures — or stylish clothes in bigger sizes in general? Did you notice the increasing amounts of people getting nostalgic over cartoons from the '80s? Are women's clothes with spacious pockets your jam? Comfy monochrome hoodies without ludicrous inscriptions?
Hear out the complaints people share about the clothes and think of your own as well. The sweet spot lies somewhere in there.
No matter how crowded the market seems, you'll think of something that is missing and incorporate it into your vision — in a way that skyrockets your home business to success and meets market demand at the same time.
Define the clothing collection
Decide what type of clothes you will be selling, and don't start too big. Opt for a specific clothing item, or several related items: underwear, jumpsuits, skirts, dresses, shirts, etc. As the business grows, there will be plenty of opportunities to expand your offerings, but for now, focus on a few key items you will make unique.
While we're at it — what makes your clothing line different from similar clothes that customers can find online?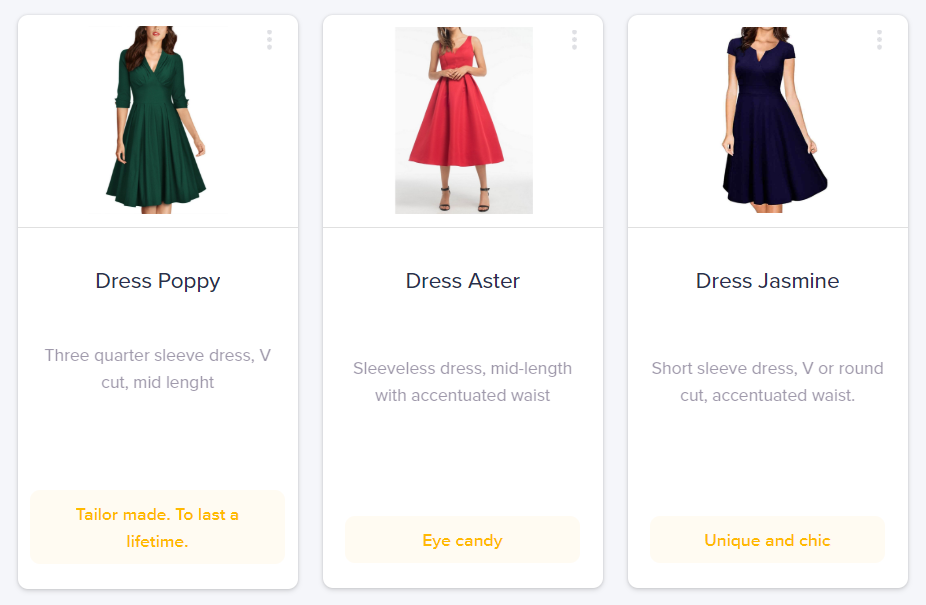 Your line must offer something that doesn't exist elsewhere. This USP feature will attract your target customers. For example, you might create warm pants made of a special wool blend for people who have a strict business dress code but work in cold areas. Or waterproof underwear with incredible insulation for skiers and snowboarders. Or fashionable gym apparel for plus-sized people.
Start thinking about a business model. You may go couture for completely custom clothes you design and sew yourself, or you may customize blank clothing with your designs, or you may specialize in custom print-on-demand orders.
Choose how to promote your products
For starters, make sure you're maximizing your existing marketing resources. Use your social media accounts to post and create some buzz about your new business and reach out to your friends and acquaintances — especially ones with the large social media followings.
Paid Ads
The next step is to use paid ads. Focus on photo-oriented sites such as Instagram, Facebook, and even YouTube — videos are great for showing your clothes in motion and demonstrating their flattering fit.
You must be smart about your marketing budget and target only the people who might buy the wares you are selling. It doesn't make sense to market to teens if you are selling business suits, for example. When targeting the right audience keep the following in mind:
Subcultures

Facebook likes, Instagram follows, their Twitter following

Certain music fans

Age

Geographical area

Profession

Devices they use
Influencers
Influencer marketing works really well if you choose the right people to showcase your clothing. Not every Instagram influencer or YouTuber with a huge audience is the right choice — they should be known and loved for things that relate to your designs in some way. This means you should also look further than influencers and try to reach out to popular artists, athletes, hobbyists, gamers, etc. Pay attention to their reputations and try to pick ones who have never been involved in scandals or controversies.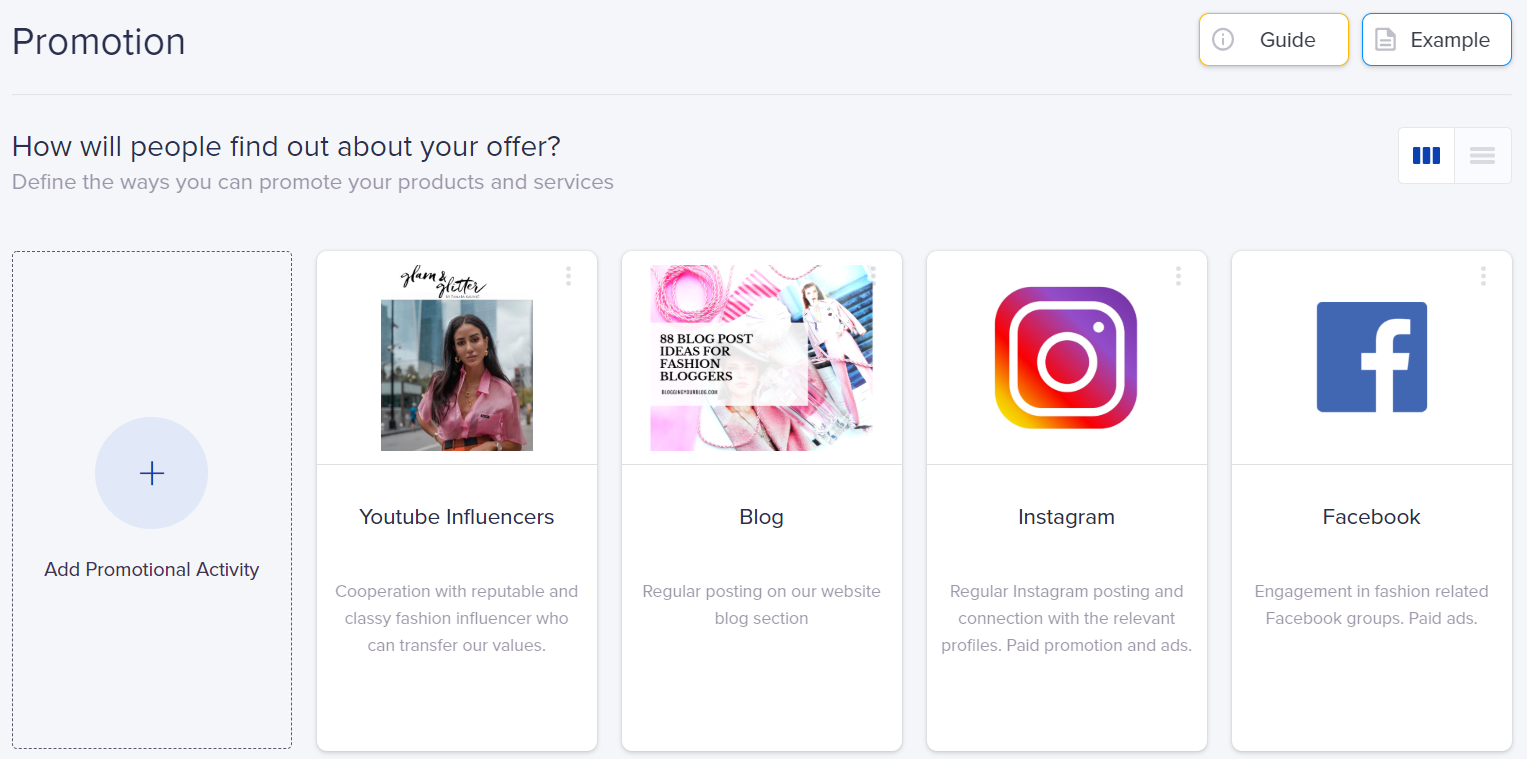 Blog
If you opt for a website, create a blog section as an additional way to increase traffic to your website. Phenomenal SEO and attractive, relevant blog topics will generate organic high rankings on Google, which means you save money on ads. Use call-to-action- buttons to make sure that once visitors are on your website, they'll want to look around your store. Bonus: if you create an exceptional blog, it may become an entity of its own and provide more business opportunities.
Other creative ways of promoting
Magazine advertorials are an elevated form of advertising, aimed at the people who follow trends and in search of something unique. This kind of advertising is a great idea if you design and sew custom pieces.
In order to make your ads worthwhile, post good quality photos (your own, if they are high quality, but keep in mind that money spent on professional photos is money well spent!) with helpful, engaging captions and well-written copy.
Decide how will you sell your clothes
The first option to consider is having your online store incorporated into the website. This way, you are in control of every aspect of selling your apparel online.
WordPress is one of the most popular choices, but you can pick Shopify, Wix eCommerce, or BigCommerce as well.
You can also use eCommerce websites such as:
Etsy

Amazon

Big Cartel

Storenvy

Zibbet

eBay
Each of these has different terms and conditions, along with the fees you pay for every purchase made. They are well-known worldwide, but it would be smart to look into locally popular eCommerce options. Their main advantages are the support you can contact 24/7 if anything goes wrong, fraud protection, and not having to manage your website. It is as easy as opening up the account and uploading the images of your clothing.
As far as the physical stores are concerned – look into fairs where small, independent artists display their work, rent a shelf at the stores where they sell their stuff or make a deal with private store owners to exhibit your apparel in their shops. This limits you to the stores in the immediate area but gives a chance to your customers to try out the clothes.
Shipping Strategy
Pay attention to creating a shipping strategy that puts the least stress on you, and your customers as well. Unexpected shipping costs are among the top things that turn customers away, and low rates help reduce cart abandonment rates.
Charging options for shipping include: 
The exact shipping fee

Flat shipping fee

Free shipping for a certain purchase cost/location/date/every purchase
Make the shipping costs transparent and easy to find – so the customers are aware of them at the checkout or sooner (website section). Most of the carriers (USPS, UPS, FedEx, DHL, etc.) have shipping calculators available on their websites so that you can determine the exact prices every time; these websites are the place to look for order tracking options as well. Duty and customs fees depend on the individual countries, and are not in your control – but make sure you warn the customers to improve customer experience.
Return Policy
Your return policy should be just as transparent. You have two options:
Provide the customers with pre-paid postage in case they want to return the product

Note that it is their responsibility to pay for the postage if they want to make a return
The lack of free returns, or returns in general, can deter the customers from making a purchase and are a risky way of doing business.
Find clothing manufacturers and other partners
Running a business from your home doesn't mean you have to do everything by yourself. Partnering up with people who share a vision with you can benefit in many ways:
 

It increases the startup capital

 T

he useful connections are doubling up

 

A different view, knowledge, and skills than yours can enrich the business

 

Managing the crisis situation gets easier
If you are willing to share the profit and the ownership – pick a reliable, honest, and hard-working partner. Your business relationship will depend on the mutual agreement and a contract you sign before you start doing any line of work, so there are no misunderstandings and every side gets a cut.
Other associates depend on the business model you opt for, so let's get a more detailed view than the one we provided in the previous sections:
Print-on-demand apparel:

you only need to send a design/logo to a clothing print company, and it is up to them to print them out on blank clothing, pack, and ship to customers. You have many clothing options and no set-up costs, but this isn't a cost-effective model for large productions and has limited options regarding tags and labels, as well as clothes they print on.

Private label clothing line:

you need to cooperate with companies who sell the blank clothes in bulk, screen printing firms, materials wholesalers, warehouses, shipping companies – and manage this on your own. It requires more startup funds and labor but is cost-effective for large batches, and has a bigger potential for increased margins and perceived value.

Custom clothing line:

designing sketches and patterns according to your idea, sourcing the materials, finding the manufacturers, sewing the clothes, shipping companies – you would need to contact quite a lot of companies and individuals. This option is costly and takes a lot of time and work but the products are custom and more valuable to the customers.
Validate your concept before starting production
Do the first round of production and test the clothing. Create one of each size, design, and cut, so people can try the clothes out and provide you with feedback.
These are the things to pay special attention to:
Is the material or a patch scratchy

Is design distorted, crooked or faulty in any way

Do the washing and ironing alter the clothes (shrinking, color bleeding, print damage)

Cut and seams quality

Are the clothes comfortable and fitting for the size stated

How do the clothes behave in various weather conditions
If your clothes have some of these flaws, get in touch with your manufacturers and look into resolving them. The good thing is – you didn't produce a full batch of faulty products and ship them, only to get the disgruntled customers who want to return the items and ruin your brand before you even started.
As far as the precise target audience is concerned – if you cannot reach them in person, look into their online behavior and dig out their complaints, wants and overall needs regarding the specific clothing items you would provide.
A good starting point for research would be:
Youtube and Instagram reviews

Reddit and other forum and social media discussions

Review sections on your competitors' websites
Bad reviews will warn you about the things you should avoid, and the good ones will remind you of things you need to implement. 
Chapter 2: Understand your market
Define the market size and its growth rate
Market Size
The size of your market depends on the customer profiles you created and their defining characteristics. In addition to the usual demographic data such as age, gender, occupation, and purchasing power, look into some particular traits that connect your customers to the apparel you provide. Style choices, pop culture preferences, hobbies, sports activities, music, art, makeup — it all adds up and provides you with guidelines for creating clothing that appeals to a specific market.
Running a home business and selling apparel online means no geographical borders can prevent you from expanding to a foreign market — as long as the style and concept speak to people in different countries. The thing is, you will have to create marketing strategies for various languages, choose the shipping options, and maybe offer another language (besides English) on your online store — although Google does a pretty good job of translating websites.
Selling clothing across borders means a bit more work, so narrowing down the market will make it more worthwhile — there won't be redundant costs from aiming at the wrong crowd.
Growth Rate
The growth rate of the market in question is another important indicator to keep in mind. If the market is small, it might be shrinking, and the best thing to do would be to shift markets. On the other hand, if it is growing, you are at the ideal point in time to jump on the bandwagon. Stagnating markets are tricky and almost as risky as markets that are still in their infancy. Establishing a new market is hardest of all, though the returns can be amazing — but only if projections look promising!
Check the current state of the market you plan to enter, so you know what to expect regarding the competition. The market is probably pretty saturated with a plethora of clothes of many different designs, quality levels, and prices, along with the well-made copies of famous brands.
The only way to stand out is by differentiating your line to the point of perfection — so that there is no other brand offering clothes like yours, for prices as competitive.
Identify your target audience
Who are the people out there that are just dying to wear the apparel you create? Craft their profiles with great attention to detail and try to get to know them better than they know themselves.
Determine the pain points of your target market, their unmet wants and needs. We've said it before, and we'll say it again: one of the best ways to find out about customers' desires and frustrations is by reading review sections in your competitors' app store pages.
Are customers complaining about sizes, fit, shipping speed and rates, or customer service? Do they want another set of colors and designs? This is your opportunity to shine! Provide the very things others lack and collect the customers they failed to satisfy.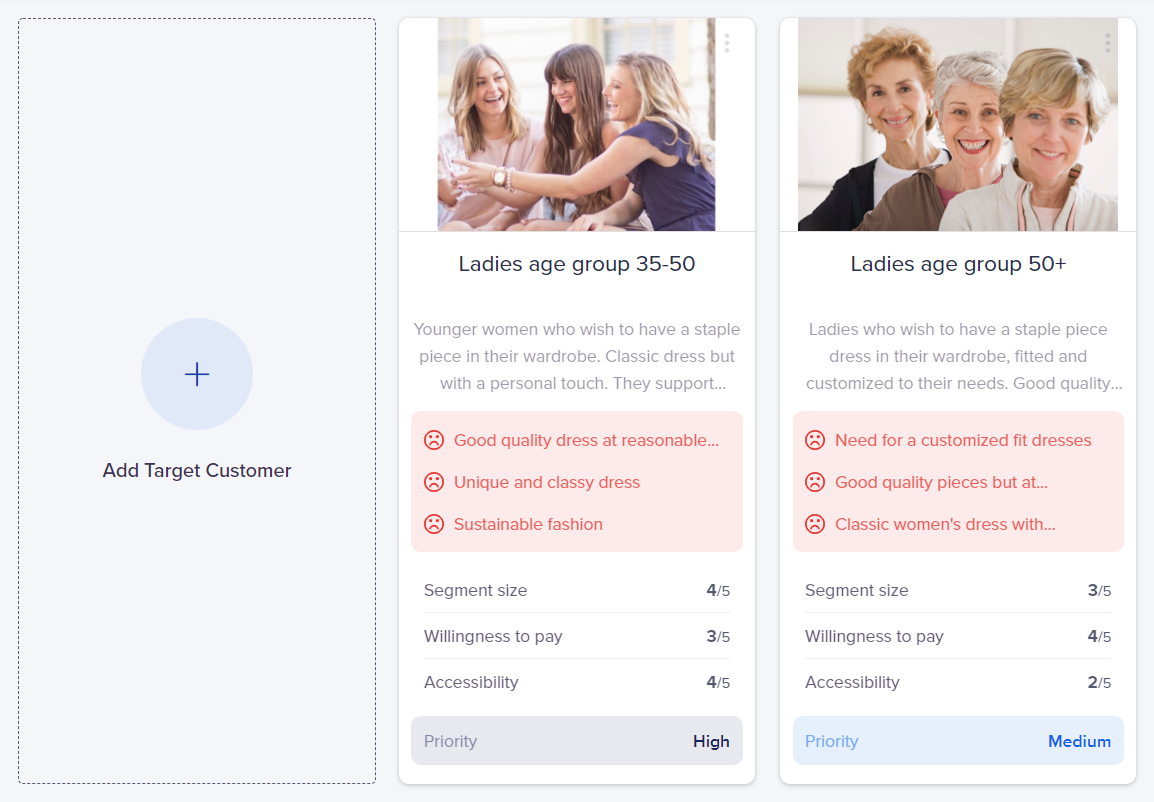 Your next job is to determine how much people are willing to pay for your apparel. Set prices too high and you will fail to sell — and meanwhile, someone else will scoop in, copy your business model, and offer the same products for lower prices. Set prices too low, and you won't be left with any profit once you pay the production costs and overhead.
Customers are hard to get when you are starting out — that's just how it is. But if you know their expectations, meet them, and exceed them, you'll get the boost you need.
Analyze your competitors
You will most likely find some very strong competitors on the market — some of them selling items similar to yours (a lot of them knock-offs) for ridiculously low prices. But not every competitor works with cheap, questionable-quality clothes; the initial competitor scouting will show you some really good concepts and clothes that represent the other side of the competition scale.
The first thing is to identify the direct and indirect competitors.
Direct competition consists of retailers that offer basically the same thing as you do (think Fashion Nova vs. Pretty Little Thing), and indirect competition means brands that provide slightly different items but can satisfy the same customer needs (Desigual vs. Diesel).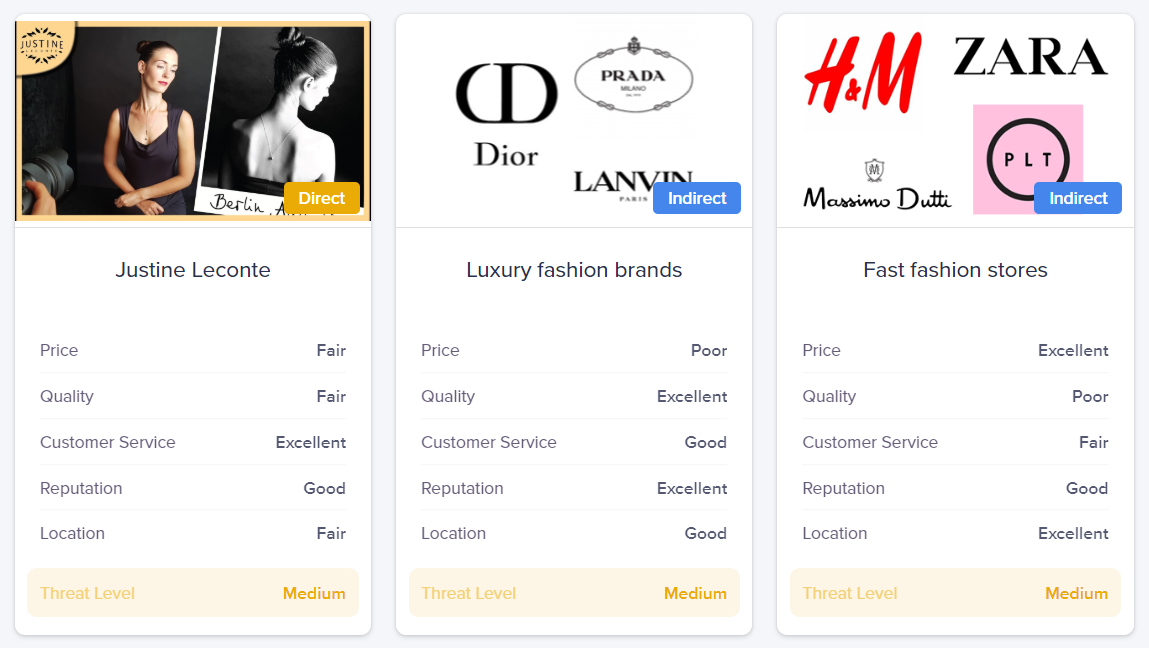 Once you've classified the competition, focus on the direct, head-to-head competitors, as they are the main threat to your business — but keep an eye on the indirect competition as well, just to be safe.
By conducting proper competition research, you will know how to position yourself competitively on the market. Learn your rivals' strengths, weaknesses, and competitive advantages in these areas:
Prices

— are they cheaper or more expensive than you and other competitors, what is the value customers get for that price, does the shipping increase the price significantly?

Quality

— the materials they use, the perceived value from the customers' point of view

Customer service

— the way they respond to their customers, if they treat them poorly or well, the levels of satisfaction customers show

Reputation

— the sum of everything mentioned above: their credibility, how loved the brand is and the loyalty of their customers
Customer reviews, YouTube unboxing and commentary, niche forums, and groups — take advantage of all of these are exceptional sources of info. 
Conduct a SWOT analysis
SWOT analysis of your clothing line business will help you acquire valuable insights and learn how to use your benefits wisely while minimizing the non-beneficial factors.
Strengths
Original, unique clothing design

High-quality fabrics

Excellent campaign on social media that raised brand awareness

Competitive prices
Weaknesses
Limited and quite expensive shipping options

Penetrating the over-saturated market

Low starting budget
Opportunities
Merch targeting a specific crowd that has few other options

Connections with a number of popular artists

Innovative fit and shape
Threats
Retailers who sell similar, mass-produced clothes for lower prices

Established brands popular among your target audience

Copycats that are hard to trace
Calculate your market potential
As your products can endure long-distance shipping without any troubles, strict geographical calculations are off the table – unless your clothing is weather-specific (snow equipment, thick, wool clothing, bathing suits, surfing apparel, etc.).
All the calculations will pretty much depend on the purchasing power, tastes, and related traits of your potential customers. For example – nostalgic 90s TV show motifs on your clothes would mean targeting people of a certain age, taste in popular culture, and language.
First, define the overall number of people who relate to that clothing niche according to demographic and other important stats. Then, estimate the total percentage of them that regularly purchase the competitor's products, and think of the amount customers would be willing to spend on your clothing.
Find the information about the total annual revenue of the clothing industry niche you belong to. Divide that by the number of niche competitors you included, and you will get an estimate of your annual profit. 
Chapter 3: Setting up the business
Calculate the total investment needed
Write down all the possible expenses you might encounter when getting your clothing business up and running. Startups can be pricey — but the final amount will depend on the business model you pick, the amount of personalization you're aiming for, the complexity of your concept, etc.
These costs include, but aren't limited to
: 
   

Buying/renting equipment and materials

   

Hiring workers or artisans

   

Product development — designs, patterns, blueprints, samples, production

   

Brand development

   

Branding the clothing — tags and labels

   

Packaging — boxes, poly mailers, bubble mailers, packing peanuts, tissue paper, styrofoam, tape, stickers

   

Creating images

   

Creating a website and online store

   

Ads and marketing

   

Bureaucracy, permits, licenses, fees, trademarking, copyrighting, registering, etc.
Costs tend to pile up if you don't set your priorities right away!
Your first batch should not be too large — give yourself a chance to see how it goes in the first round. Get in touch with experienced people from the industry and ask around about smart ways to save money in the beginning. Some expenses, such as machines, will be one-time investments; you need to pick them carefully, and maybe spend a bit more on them since you need them to be reliable. In the long run, you'll save yourself the trouble of frequent repairs and replacements if you buy high-quality equipment.
You can save money by picking the cheapest options for website creation, photographing your models with a phone camera, and renting equipment instead of buying.
Explore different types of funding
You can choose from several financing options for your venture. Select one of them or use a combination that creates the least risk and enables you to pay off debts sooner.
Your savings are the first option to consider. Funding the business from your own pocket means that you can set your own rules, pay zero interest, and be held accountable only by yourself — but you also go solo on carrying all the risks.
If you've been thinking about starting your own clothing business for a while, you probably started saving some money a long time ago. The thing is, a venture like this can get really costly, so you probably cannot rely upon your savings alone.
Taking a loan from the bank is another form of funding to consider — but it comes with an interest rate and monthly payments. Any concerns you might have can be resolved by looking into the contract carefully and picking the terms and conditions that suit your needs.
Getting some more people involved might be a good idea — two heads are better than one!
Investors, partners, and co-owners you trust can provide some terrific advice and help to get the business going. You can choose from a variety of partnership models:
Silent partners will bring money to the table but prefer not to be involved with business management, so their feedback is minimal. They trust you and give you most of the control, but their liability is minimal in case of trouble. They usually expect a higher ROI, though. Some would argue that "silent" is just a figure of speech — and that these investors do have a say on some things, depending on the agreement.
Investors and co-owners get involved significantly, for better and worse. Their help with operations and insight can help a lot if you lack the experience and connections they can provide, but on the other hand, they have more control over the business.
Build your management team
Decide if this venture is going to be a one-man show, or if you will form a trusty team to help you with the whole operation.
Opting for the later will help you with time management and efficiency, especially if you want to start off strong. The size of your management team depends on your startup size and resources. Your management team should consist of responsible, trustworthy people you can rely on. Ideally, they have previous experience in the job you would like to assign them, good people skills, and industry knowledge.
Running a single-person operation, on the other hand, means everything is up to you. If you are well-informed on what needs to be done, you think and respond quickly, and you are able to finish the tasks on your own, go for it.
Define staffing needs and expenses
If you are buying blank clothes wholesale and then printing on them, you don't have to think about hiring the professionals to sew, tailor, and decorate the clothing. You will need to find suitable screen-printing services, shipping companies, and quality apparel to print on, of course. 
A graphic designer might be a good idea, to draw design and pattern and tweak them in the appropriate programs to make sure they print out nicely.
The more personalized your apparel is, the more people you need to employ. 
Tailors, graphic designers, artists — and if the batches are huge, staff to handle warehouse packing and shipping preparations.
When you make your detailed employee plan, set aside an appropriate amount of money to pay their salaries. In addition to the number of people and their job descriptions, note the number of shifts and working hours.
Chapter 4: Projecting your business performance
Make your revenue estimates
You can forecast revenues for your home business by estimating how many items of clothing you will sell, or you can make a revenue projection based on the average bill per customer. The following is an example of the second option.
Let's assume that:
   

Average bill per customer: $30 (depending on your clothing prices)

   

The clothes will be ready for ordering every day

   

Number of customers per day: 25 (for example)

   

Monthly growth rate of customers during Year 1: 30%

   

Monthly growth rate of customers during Year 2 and Year 3: 15%
Based on the assumptions above, you should select the unit sales revenue model, where you will set the selling price at $30 (which is the average bill), with the number of customers served per month (25 per day, 30 days in a month) as sales volume.

Then you add 30% as a monthly growth rate in customers served (sales volume) for the first year of your forecast. After you save these figures, you can copy the same card and modify the monthly growth rate to 15% for Year 2 and Year 3.
This calculation will give you a rough revenue projection for your first three-year period.
Define your direct costs
Direct costs in a home business come from the production costs for a single clothing item, including:
   

Raw materials

(for example, cotton fabric costs $4.50–$8.50 per kilogram)

   

Printing/customizing

   

Shipment packaging

(a 100-piece pack of poly mailer bags costs about $8.95)
Calculate the direct cost per product and get the gross profit by deducting the direct cost from the price you plan to set for the item.
Set your marketing budget
The first thing to do is to set up social media profiles and your own website, then put them to good use!
Leave some financial resources for developing a spotless marketing strategy and hire an agency or a skilled freelancer to execute that strategy. After all, people need to know you exist before they can purchase your clothing.
A critically important part of the marketing strategy for a clothing business is producing high-quality, flattering photos of your products that showcase them in the best way possible. As most popular editing programs have pretty low costs and phone cameras work really well, you can try and do it on your own.
However, studio-quality images and professional models of various sizes and with different builds, attract and enable potential customers to take a good look and decide to purchase.
Various promotional activities can include helping needy populations or charity organizations, awareness campaigns, affiliate marketing, and blogging — there are plenty of creative ways to get the word out.
Estimate other overhead costs
Running a home business means excluding many usual business costs, such as rent, utilities, lease, and some taxes.
However, there are still quite a few things you have to include as overhead costs: supplies, paying manufacturers and designers, quality control, machine maintenance, and product storage.
Be sure not to repeat the costs you listed in the Startup Costs section. 
Calculate your profit margin
In the initial stage of your clothing business, you can expect a profit margin of about 10–30%.
The rule is simple: increased sales mean increased profit!
Deduct the direct costs from total revenue, and you will get the amount of gross profit you can expect your fitness club to make.
You can manage the profits on low-margin products by cutting down the production costs, raising the price, bundling low-margin items with high-margin items.
On the other hand, to earn more from high-margin products, invest more in marketing and increased website presence, and implement some cross-selling strategies.

In order to calculate the real income from your work, take all your expenses into consideration (operating expenses, interest, taxes, etc.), and you will get the net profit (net profit = gross profit – all expenses).
Another way to tighten your margins is by making sure you find the best prices for supplies and machines.
When cash inflow (investments, financing, and customer payments) overpowers the outflow (money leaving the business), you'll be on top of your game.
How to start clothing business: Closing Thoughts
Now that you have gone through the steps above, take your time to truly understand the basics of starting the clothing line business from your home.
Put all your passion into creating your concept as that is what is going to set you apart in the large fashion market. Then, research the research, check what's required to set up your business, and forecast your stellar performance. 
IdeaBuddy makes the full process easier, from conceptualization to execution. Sign up for free and start developing your dream business today.