Have you always wondered how to become an entrepreneur and start your own business, but never knew how to create a plan to understand where to even start?
It all starts with a business idea, the one that determines the life of a business venture. But, how to develop a business idea can often be a stumbling block, especially for first-time founders. What often happens is that founders are either too harsh on themselves or too lenient.
As a result, they might pass on an idea that could have been the next Airbnb. Meanwhile, many business owners jump headfirst and build a product that sparks little interest in the market.
So in this post, we look at:
how to come up with a business idea
how to prioritize what to deliver first
how to check if your idea is feasible
what to asks potential users to get the real value from their feedback
By the end of the post, you should have a blueprint that helps you decide whether to pursue your idea further. Then you can start expanding on your business plan.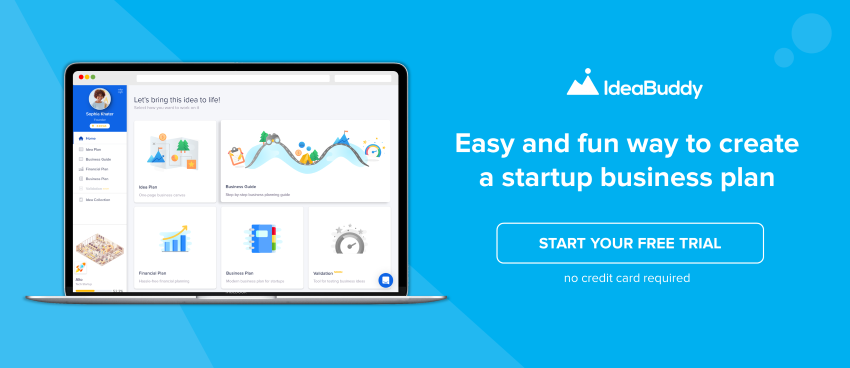 Learn how to become an entrepreneur: start with design thinking
A good business idea needs to deliver a solution that people would actually pay for. And to build a solution that is cost-effective, appealing, and has an edge over other similar solutions, whether in functionality or design, you need to go wide to really understand the core of the problem.
A convenient tool for that is the design thinking paradigm.
In short, design thinking is a problem-solving approach that combines divergent and convergent thinking. That means that you first explore as many options as possible, often together with a potential client or a make-believe client.
Then you slowly narrow these options down until you find the solution that ticks off as many of your checkboxes as needed.
The biggest advantage of design thinking is that it is customer-centric. And so, by using it, you will be focusing on what truly matters to your potential customers. And this will largely determine how successful and feasible your business idea will be.
Plus, it is a non-linear approach that goes through four phases: discover, define, develop, and deliver. And this lets you keep track of all important segments of your business, such as:
Customers
Market size and saturation
Competitors
Resources needed
Requirements and restraints (e.g. laws, regulations, etc.)
As a result, you will be working iteratively through your initial idea and expand on it. However, you will have a good overview of how each change affects other elements.
So, let's see how this works in practice.
Step 1: Discovering the many faces of your business idea
The first step within design thinking is the discovery phase.
Here, you start with a generic idea that you want to expand (think of it as a target industry), for instance, work-life balance, or commuting to work, or another broad area.
However — to make the development of your idea truly efficient, don't impose your initial idea too much on the person you're interviewing.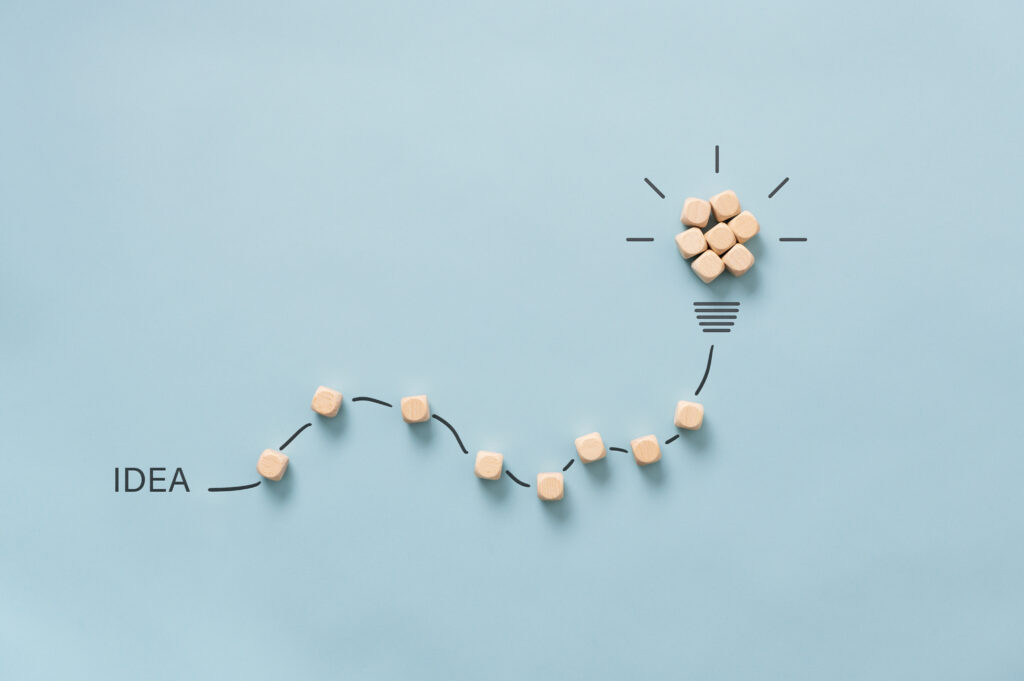 Keep all the options open here — explore in any direction imaginable, from most far-fetched ideas to the most obvious or most conservative ones. Remember, here you want to learn as much as you can about the potential customer and their habits, needs, desires, troubles.
And your guiding principle should be to look for specific problems. If you're talking about commuting to work, then try to find out:
What days or times of day are the worst for commuting and in which city parts?
What else is affected by inefficient commuting options?
How do people pay for the tickets and how convenient is it for them?
Do they feel safe when they commute?
Step 2: Defining the specific problem
By the end of step 1, you should have amassed a number of potential problems. All of them could translate to business ideas.
Now, it's time to be specific and narrow down the problem.
Here, look at all the problems that you have identified and find the one where you think you can help the most. Factor in your expertise and the expertise of your team members, as well as available options in the market, potential direct or indirect competitors, and select the problem that you want to take further.
You can always revisit this pool of ideas later on, but now it's time to polish up the one problem you want to solve now.
Step 3: Developing the idea (time to think outside the box)
It's time to think 'wide' again.
In this stage, you want to find as many creative solutions to the specific problem you have identified as possible.
However, you will get the biggest value out of this exercise if you categorize your ideas according to the 'value for the user' and 'effort required' axes.
So, for each idea for a problem you come up with, check:
how much value it brings to the user
how much effort it requires from you
You will want to aim for that sweet spot with maximum value and the lowest effort.
In case you lack such solutions, go with the solutions that have the highest value for the user.
If you're facing serious shortcoming here, for instance almost no funding, try to break that solution into smaller parts. Then start again with step 3, in order to find ways in which you can solve each of the smaller elements, without exceeding your budget.
Step 4: Time to prototype
In the final step, you are working on delivering the minimum viable product (MVP) for your customer.
This means that if you're building a commuting service, you will want your customer to be able to book a trip. And that will suffice in the first step. In the next steps, you could be adding the payments option, or sharing a ride, but for now check if the element you have delivered brings any value to your client, or whether it meets their expectations.
Now, at this stage, you have initial feedback on your first delivery to the client. That will help you improve the idea further. Whichever the outcome, you will have a good idea of what next steps you need to take — whether to build further or go back and rebuild the initial delivery.
In the meantime, you have collected a lot of feedback from an actual client, which will help you look back at your business value canvas and alter it if needed.
How to develop a business idea: Conclusion
You learned today how to become an entrepreneur, develop a business idea, and turn it into a money-making business. All there's left for you to do now is to roll up your sleeves and get down to work!
Do you need help in fleshing out and structuring your ideas?
Then try IdeaBuddy for free and find out how our business planning tool can help you to develop a business idea, in a fun and engaging way.