In today's post, we look at two canvas templates for creating a one-page business plan: Business Model Canvas and Idea Plan. Both tools are built to help business founders set the foundations of their business venture for lasting success, but each has its own unique traits. So let's see how Business Model Canvas stacks against Idea Plan.
Once you read this post, you'll know:
How Business Model Canvas and Idea Plan differ
When Business Model Canvas is a good choice for your business
Pros of using Idea Plan
How Idea Plan aligns with first-time startup founders
Business Model Canvas: What is it and when to use it?
Business Model Canvas is a planning tool that helps you put together all the blocks of your business and see how feasible it is. It's one of the best-known business planning tools, created by Alexander Osterwalder, and it's been tried and tested by many businesses over the years.
Plus, it has been the inspiration for many other tools, as business experts worked to improve the shortcomings of the initial BMC and adapt it to the fast market of today.
Visual in nature, Business Model Canvas is a cost-effective way to get started, as you set out to lay the foundations of your new business venture. Think of it as a step-by-step sketchbook of your business. All you need is a sheet of paper and you can get right down to business.
But besides the ease of use and the visual allure, Business Model Canvas is a great concept as it helps bring clarity to your business idea. It allows you to connect the dots between different parts of the business. Then you can align internally and externally on what the next steps should be. And, finally, you can monitor the execution, as you will have a go-to reference point when things don't go according to the plan.
​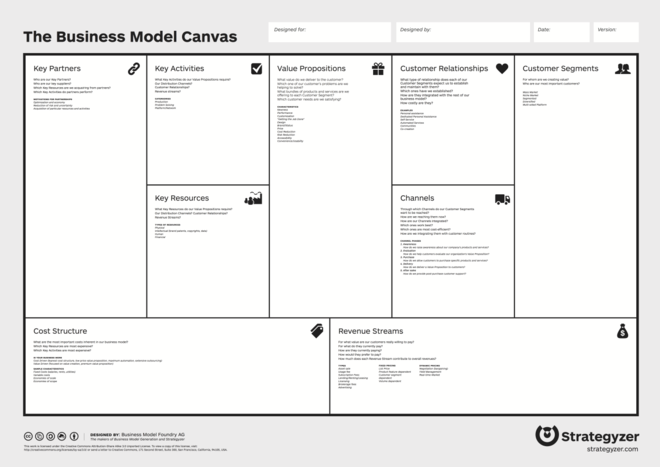 In short, the Business Model Canvas has you looking at the following segments of your business:
Key Partners
Key Activities
Key Resources
Value Propositions
Customer Relationships
Customer Segments
Channels
Cost Structure
Revenue Streams
The idea is that these nine pillars are the essence of your business. And so when you define them, you're set up for early success, as you have a clear point of reference and know what to focus on.
Idea Plan: Flexible tool for laser-sharp focus
Idea Buddy's Idea Plan is another visual tool for planning your business, which accompanies founders as they build their venture from scratch.
But while the Business Model Canvas has you focusing on nine pillars right away, Idea Plan brings an added layer of prioritization. It allows you to focus on four central tenets of your business — Problem (Why), Solution (What), Customers, and Product first.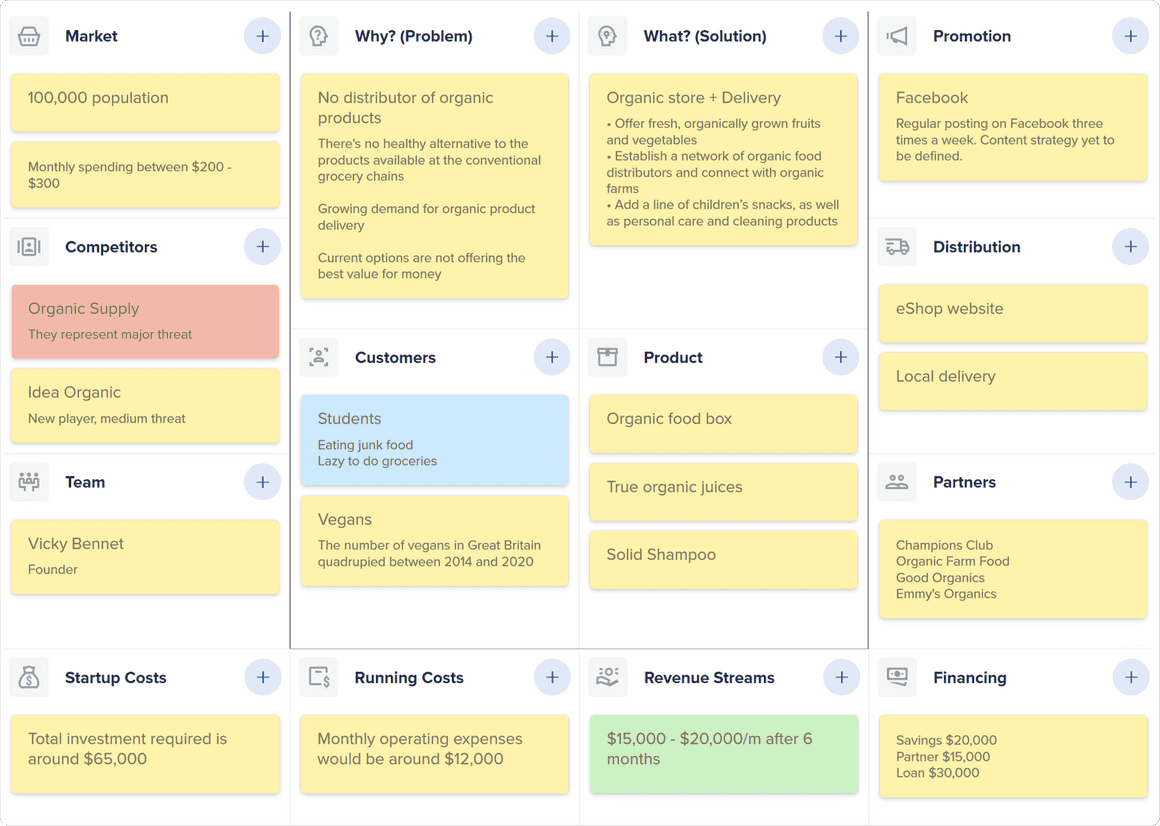 Once you think through these four elements, you can move towards the 'outer' layer. There you will work on defining the remaining 10 blocks, including:
Market
Competitors
Team
Promotion
Distribution
Partners
Startup costs
Financing
Revenue streams
Running costs
For a first-time founder or less experienced startup owner, building a business with Idea Plan is a lot less overwhelming. The reason being it combines prioritization on key areas with a greater dose of granularity.
Whereas Business Model Canvas has nine blocks altogether, Idea Plan offers four key blocks and 10 elements. That helps break complex and unpredictable business elements down into more manageable business areas.
Idea Plan explainer video
Now that we've seen a broad difference between Business Model Canvas and Idea Plan, let's have a closer look at how each addresses two essential business elements: business plan and costs of funding.
Idea Plan vs Business Model Canvas: articulating business problem
The biggest difference between Idea Plan and Business Model Canvas is the focus both tools place on the problem.
Under Business Model Canvas, the Problem block per se doesn't exist but instead sits somewhere within the Value or Customer segments. For more experienced business owners, who might already have a good idea about the problem they've set out to solve, this is a lightweight approach.
At the same time, Idea Plan places the business problem at the center of the business plan, as an element on its own. For first-time founders, especially the ones who are in dynamic industries, the Problem is at the core of the business.
So being able to isolate and re-examine the Problem at hand is a good starting point for the less experienced business owners. That's why Idea Plan's take on the problem-defining works better for new founders.
Taming costs: Who did it better?
Keeping track of costs is crucial for startup success, especially if you lack funding. And most startups do, at least initially. That's why costs are part of both Business Model Canvas and Idea Plan, but are again, addressed differently.
On the first one, costs are placed within a single element. However, a closer look at this section shows that the BMC speaks about different types of costs. But again, for someone who's just starting out, being able to break down costs exactly into small bits can help get far.
On the other hand, Idea Plan breaks costs into two major segments — initial investments and running costs. This might look like a tiny add-on, but this clarity in planning initial costs helps reformulate the idea right in its infancy, if needed.
Knowing the initial costs can assist business owners in focusing on the essential funds first. After that, they can start building on top of that.
Again, first-time founders need assistance and guidance, and the 'closer' look of Idea Plan helps build the business plan with greater feasibility.
Final verdict: Idea Plan vs Business Model Canvas
In today's market, there is very little place for a cookie-cutter approach. The same goes for a business plan — some founders benefit from a rough sketch of the idea, whereas others prefer more guidance and flexibility as they build their business.
While Business Model Canvas is a robust model that covers key business elements, Idea Plan offers more guidance and helps with prioritizing.
In short, if you've started a business before and know the basics, you will benefit from Business Model Canvas. It breaks down your business in an easy-to-grasp way.
On the other hand, if you're a first-time founder, or want to have more guidance, especially early in the business building process, Idea Plan's one-page business plan will work better for you. Plus, it comes with industry-based guides and editable templates that cover the most popular business ideas. That way you can start building your business right away with a suite of reliable content by your side.
Ready to flesh out your business? Try Idea Plan for free and fix any shortcomings in your business plan on time.