First-time startup founders have numerous checkpoints to hit, from administration to hiring to securing financing — and most importantly product and customers. As a result, given the volume and diversity of this work, starting a business feels disjointed and overwhelming, resulting in off-the-cuff decisions and business moves that take you nowhere.
So in this article, we bring a business startup checklist so you know exactly what you need to do to take your business from an idea into a sustainable venture. Once you read it, you will have a clear action plan, with multiple resources to guide you along the way.
Choose your business idea
The very first step is selecting a business idea that you want to focus on. You might be torn between several ideas at this point, but the hard part here is selecting the one you want to take further and turn into a business.
However, this is a great place to be thinking divergently, meaning not limiting yourself to just one area, but really thinking broadly — think of the diamond used in Design Thinking. In other words, you start with as many business ideas as you can think of and then gradually narrow it down to one. So, to bring some method to this brainstorming, here's what helps:
Write a list of business ideas you want to explore
Select top 3
For each of the ideas, fill out the Lean Canvas. This means:

Identify the problem you want to solve
Quickly identify the solution to the problem (just in broad strokes)
Identify 2-3 customer segments of your solutions. For each of them, find out:

What are their pain points?
What do they want to achieve?

How do you solve the problem for your clients, aka what is your solution?
Define your business concept
Now that you have pinpointed one idea, it's time to carve it out in greater detail. Firstly, in this step, you should look at the broader picture of your business — from problem solving to partners, resources, competitors, customers, and channels through which you will service them, but in broad strokes. Therefore, think of this step as creation and evaluation hand in hand. So, here's what you need to do in this step:
Determine the market size and saturation:

What is the size of the market you plan to serve?
At which growth stage is your market?
List and research competitors. Be highly specific and do the following:

List your competitors' strengths
List their weaknesses
List their own opportunities
List their threats
Define your team and how they help you achieve the goals:

Which roles do you need on your team?
Which people do you have at the moment? Is there a gap?
Identify the relevant experience each role needs to have
Determine key skills each team member needs to acquire in the next 3-6 months
Define your business partners
Define the resources you already possess
Calculate your startup expenses
This step is where you truly put your initial idea to the test. Remember, the initial costs can strain your budget, so you need to be prepared well ahead to know which costs you must cover.
Knowing this doesn't only help you navigate better through expenses, but it also sends a good signal to investors and financial institutions that you have invested a lot of time figuring out the feasibility of your business idea.
Project equipment expenses
Forecast insurance expenses
Determine the cost of business filings
Identify the costs of furniture, inventory
Identify the accounting and legal services expenses
Calculate the ballpark costs of salaries and benefits
Determine the costs of bank fees and other recurring fees
Pinpoint the needed resources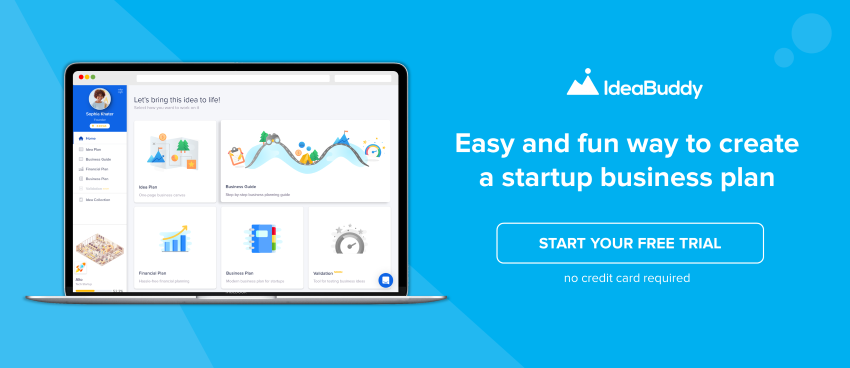 Write a business plan
It's now time to put your work into a standard template of a business plan, and this is one of the most important parts of your business startup checklist. A good business plan is a convenient way to share your ideas end-to-end with partners, investors, banks, and new hires. This way, you will always have a ready-to-show overview of the months of research you've just been through. Also, you can always revisit and check where you need to be next and if the current situation is in line with your initial plan. So, here's what you need to do here:
Create an executive summary
List your business goals
Define core products and services
Present your financial plans
Create a summary of your business plan and turn it into a pitch deck
Practice your pitch deck presentation each day
Make it official – legal and admin
You're almost there! After many backs and forths, it's time to sum up this business startup checklist and turn all these ideas into an official business. Still, there are a couple of crucial steps to make sure you've safeguarded your venture so that it starts to build credibility from the get-go:
Incorporate your business
Open a bank account
Choose a trusted company representative
Set up your accounting system
Set up your payroll/operations system
Choose a legal counsel
Select the vendors you will be working with
Choose your insurance policies
Set up record-keeping systems
Get to know the local regulations and stay informed
Attend workshops on running the business for efficiency
Business Startup Checklist: Summary
In conclusion, let's once again quickly recap the most important areas a business startup checklist should cover, so you don't leave something out:
Step 1: Choose your business idea
Step 2: your business concept
Step 3: Calculate your startup expenses
Step 4: Write a business plan
Step 5: Make it official – legal and admin
Now that you have your business startup checklist at hand, it's time to get started. First things first — let's develop your business concept. In case you need a systematic way to get around it — try out IdeaBuddys' business guide for first-time founders and start building your venture in a sustainable way right away.