A great business plan is the glue that holds together your business idea, market strategy, and customer intel. At the same time, it is a bite-size illustration of your business potential, suitable for investors to check the pulse of your venture easily.
But, most first-time founders have difficulty getting their business plans read by busy investors. So, in this post, we look at components of an attention-grabbing executive summary to get your business plan read to the end.
What is an executive summary?
To understand what makes an executive summary effective, let's look at the scope of this part of the business plan first.
Think of the executive summary as your elevator pitch. The summary presents bankers and investors with important information about your venture: product or service, market potential, the team behind the company, financial forecasts and plans for growth.
The better you illustrate the core aspects of your product, the higher the chances are that they will keep on reading. If you had to cut down all other parts of your business plan, the executive summary would still have to present your business venture on its own. That's why it's best to write this part of the business plan last, as it can serve as a recap of your business idea.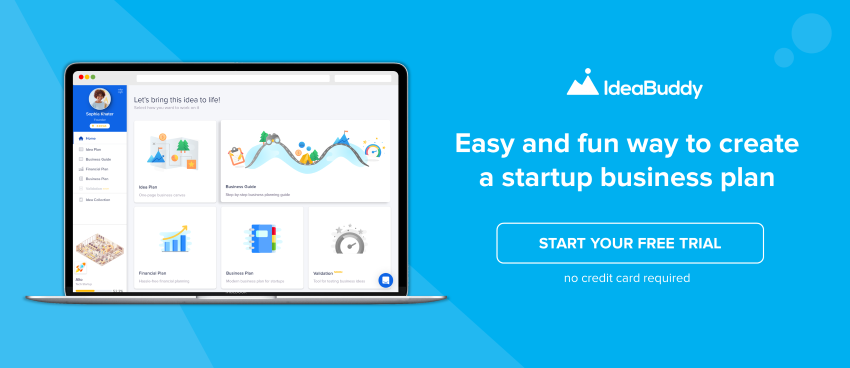 Given the importance of the summary, you and your team will want to invest significant time in crafting it and having it reviewed by experts in the industry, similar-size startups or experienced founders.
How long should an executive summary be?
A rule of thumb is to keep your executive summary as short as possible. Most often, the executive summary is around two pages long, but it can go up to four pages in length.
Bear in mind that brevity is crucial here. You will want to cover all aspects in some detail within the summary, highlighting vital information only. Later in the plan, you can work on expanding each segment, but for now, it's good to have a rundown of the main business plan parts.
However, first-time founders might find it difficult to prioritize some parts over others. A good way to get past this block is to try and summarize your entire business plan on one page. This might feel grueling at first, but it is an excellent exercise to really get down to the essentials.
What information to include in the executive summary?
The goal of the executive summary is to illustrate your goals and vision. It should give all the readers a clear answer to the question of who you are as a company and what you set out to accomplish.
As the outline of your business idea, the executive summary should include the following information:
Mission statement, i.e. what your business aims to achieve and what it does
A short description of your product or service
Information on the market, including market saturation and growth potential
Your business objectives
Evidence for viability and feasibility of your idea
Competitors and your competitive advantage
Funding needs
Tips for writing the executive summary
The executive summary is likely the first interaction between your company and an investor. So, when writing the executive summary, focus on the impression it leaves on the reader.
This is similar to when meeting someone for the first time. A skilled communicator will focus on the person across the table, not on themselves. More specifically, on how that person feels about themselves in your company. This applies to the executive summary as well.
Think of it this way. The investor or banker skimming through your business plan is inundated with requests. They have limited time and so your job is to remove any potential inconvenience for them, as they attempt to read your business plan.
So, how does this translate to the actual writing of the summary?
Write in plain language
First of all, you will want to tailor all your messages within the summary to the reader. This means avoiding any industry-specific lingo, corporate speak, or abbreviations that don't add value to the message.
More importantly, such wording can confuse your reader. While investors and bankers are well versed in finance, they might not understand the intricacies of molecular biology or self-driving cars, or even the specific issues in remote language learning.
They then have to ask for clarifications, which causes additional work for them, and so you risk that they will reject or overlook your idea.
Tailor the messaging to your audience
Building on the previous point, your executive summary needs to speak in a language that investors understand. That means you will need to adjust your copy for several target personas.
If you're pitching to an investor, focus on enticing them to explore new market opportunities and revenue streams.
When preparing to take a loan from a bank, support your request by demonstrating the feasibility of your idea, the experience of founders, and current market positioning. In that case, you may want to include the amount of funding you need and how you plan to use it.
Keep it enticing and factual
When writing the summary, you will want to strike a balance between it being compelling and factual. This means that you want to present the facts about your business venture but also illustrate the potential for the idea's expansion.
The summary is not a place for overly elaborate storytelling, but rather for the key stats and plans to achieve the goal, highlighting the benefits for your reader.
Executive summary recap
Remember, the executive summary of the business plan is the first interaction between your business and the reader. And so, it can determine the course of your business success, both short- and long-term.
If you do it right, you can boost your business expansion. And the way to do it is to focus on essential information, building the case for your business to receive support, whether it's funding or partnership opportunities.
Looking to grow your business idea to a sustainable venture? Give Idea Buddy a go and create solid foundations for your business today.