If you ever thought about launching your own business, we believe you also wondered – how to draft a business plan? The one that really has all the elements needed for your business to succeed. So…
How to draft a business plan?
A business plan helps founders and the team stay aligned with the business mission and vision as the business grows, while helping present the strategy and tactics to potential investors and secure funds and partnerships. So it's very important to know how to write a business plan.
So in today's post, we'll walk you through business plan writing. As we guide you through each block of the business plan, you will learn the key elements and goals of each part of your business plan. By the end of the article, you will know:
How to get started and how to draft a business plan
What information to include in each part of the business plan
Different purposes of a business plan
How to adjust the plan according to particular goals
Why write a business plan?
There are many templates you can follow to write a business plan. But to make the most out of it, you should be aware of why you're creating a business plan in the first place. A business plan serves multiple purposes, but here's the core you should focus on:
Define the core of your business — what it does and doesn't do. Your business plan is your startup's business card. It needs to define the mission and vision of your venture. This is used for both internal and external stakeholders to better grasp what is at the core of your endeavor.
Set your business goals. For a business plan to be meaningful, it's key to know what you want to achieve. This can include the ultimate and interim goals, but in short, it's a guiding star that leads your business through the market and growth stages.
Think through and plan for all the stages to get to your target. Once you know the overarching goal, you can carve out several next steps. This helps you stay grounded and focus on strategic goals, without squandering resources.
Pin down the remit of work that needs to be done. With a business plan in place, it's possible to understand what needs to be done. This applies to everyone — from your C-suite to customer support and marketing. Everyone needs to know what should be done and where energy is not to be invested.
Determine who you will need as partners. A business plan guides you towards meaningful partnerships that you want to pursue. When you know your goals, it's a lot more sustainable to choose partners.
Understand what resources you will need to achieve your goal. Your business plan shows the feasibility of your idea and indicates the resources you will need. It's much easier to apply for a loan or a boost from an investor when there is a clear financial projection from your end.
Now that you know which part of business operations your plan should capture, let's see what information you need to include.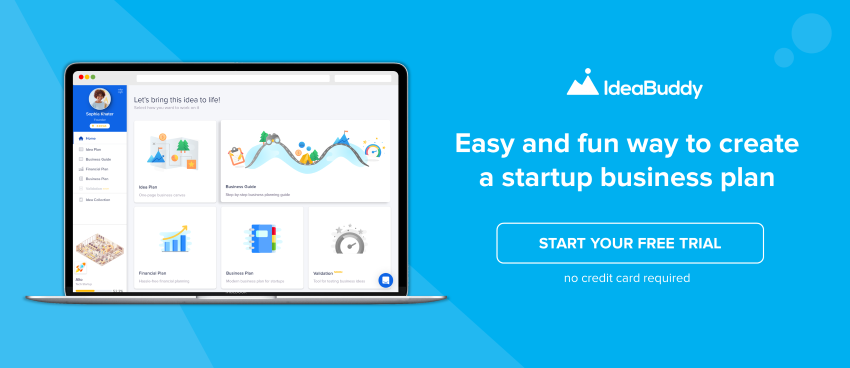 Step 1: Executive summary
As the first part of your business plan, the executive summary gives an overview of your business, mission, team, and plans in broad strokes. It is similar to an elevator pitch, and given its importance, we've written a dedicated guide on how to write a punchy executive summary — make sure to check it out.
Step 2: Company description
The next step in your business plan is to write your company description. Within this part, you want to provide a top-level view of the key aspects of your business, such as company history, the leadership team, overview of products and services, location, business structure, the market you serve or plan to serve, and a snapshot of the industry you operate in.
Step 3: Business goals
This step is particularly important when pitching to investors and financial institutions. Within 'Business goals', you are proving your reliability as the company leader/founder, as well as the feasibility of your business.
To ace your homework here, it's best to cover the following:
Deep dive into the market — analysing who the competitors are, how the market has been evolving over the years, who is serving the market and in which ways, and is there room to reshape the market needs or satisfy them in a more efficient, innovative way? This part sets the scene for your business goals — and more importantly — shows that your goals are rooted in the reality of the existing market restraints and opportunities.
Business goals — now that you have talked about the market landscape, it's time to present the goals your business wants to achieve. Be specific but realistic — if you are a first-time founder, it's more sensible to give a more conservative estimate of what you plan to achieve, so that you have an easier time delivering on your promise.
Specific strategy — this is the part investors will look at the most. By defining your strategy for achieving the goals, you will be demonstrating the legitimacy of your overall business plan. This largely determines whether you get the funds / partnership opportunities.
Step 4: Business and management structure
The team behind your product / service matters as much as your product / service. This part of the business plan serves to show the relevant experience of team members in your industry or previous business ventures and explains who plays which role in the organization. It should also show the ownership structure within the company.
Step 5: Products and services
The products and services part is the core of your business plan. This is where you should go into details to explain your product from different perspectives, including:
How your product meets user needs and how it differs from competitors' solutions
Current status of your product — is it ready to be launched or still in the works? When will the earliest version be released? If it's still in the research phase, how do you plan to bring it to fruition, and what else needs to be done?
Funding needs — depending on where your product is at the moment, what financial support do you need to launch it? Do you have different approaches for different markets?
Do you work with any vendors and on which parts of your product?
How do you plan to market and sell your product? How will you encourage customer loyalty and who is your key target audience?
Step 6: Financial plan
As the final step of your business plan, you will be elaborating on your financial plan. This is the place to provide an overview of key financial indicators, including your income statement, balance sheet, break-even analysis, accounts payable and receivable, any debt obligations, and financial projections for the short- and mid-term.
Well-established businesses already have some historical data to work with. As a first-time founder, you will take a different approach — as you're missing historical data, you should focus on the financial projections.
Whether you're pitching to investors or just preparing your own overview of the year ahead, pay a lot of attention to financial projections and take them seriously. This will help you prepare well for both the good and rough times. As a result, you will have an easier time navigating through sudden market changes.
Finally, in this part, you should also include any funding needs along with a plan on how you intend to utilise those funds. This sends a clear signal to investors and banks that you know how you want to manage your finances.
Final step: Appendix
This is the place to include any information that was omitted elsewhere, but it is still worth mentioning. For instance, you can include any charts, market analyses, contracts, resumes or other legal documents that you find relevant to support your business plan.
* * *
Now that you know how to carry out each step to learn how to draft a business plan, it's time to get going. Learn how to draft a business plan by ysing Idea Buddy's Business Plan that is built to guide first-time founders and managers with experience through each part of the business plan writing, so you can focus on the key content, rather than worry about the form.
Sign up for a free trial and build your business plan already today!