Yes, you can try to structure your idea and plan your future business by using a Word document or spreadsheets, but a business plan software makes the whole process a lot easier.
These handy business tools will help you with structuring your thoughts and building a business model. Also, business plan software usually has automatic calculations and budgeting and a business plan builder. 
And the most important thing, it will save you a huge amount of time by guiding you through the entire business planning process.
The most popular business plan software in 2021
Now let's see our selection of the best business plan software to choose from in 2021. In order to help you with selection, we broke down the list into two categories – innovative business planning software and traditional business plan software.
Innovative business planning software
Traditional business plan software
Liveplan 
Enloop 
Bizplan
Upmetrics 
We will now dive into a detailed comparison and review of each software, pinpointing features, pros, cons, and pricing. 
---
Innovative business planning software
IdeaBuddy
Overview
IdeaBuddy is an innovative business planning software that helps aspiring entrepreneurs and teams to develop their ideas, create a business model, validate a business concept, and get an impressive business plan. 
All of this comes with a step-by-step guide and relevant examples. 
This tool is simple, easy, and fun to use!
At first glance, that's due to its simplicity and a stunning visual appearance; also, it is very versatile.
It helps aspiring entrepreneurs craft a business plan and develop their business idea from any stage where they happen to be.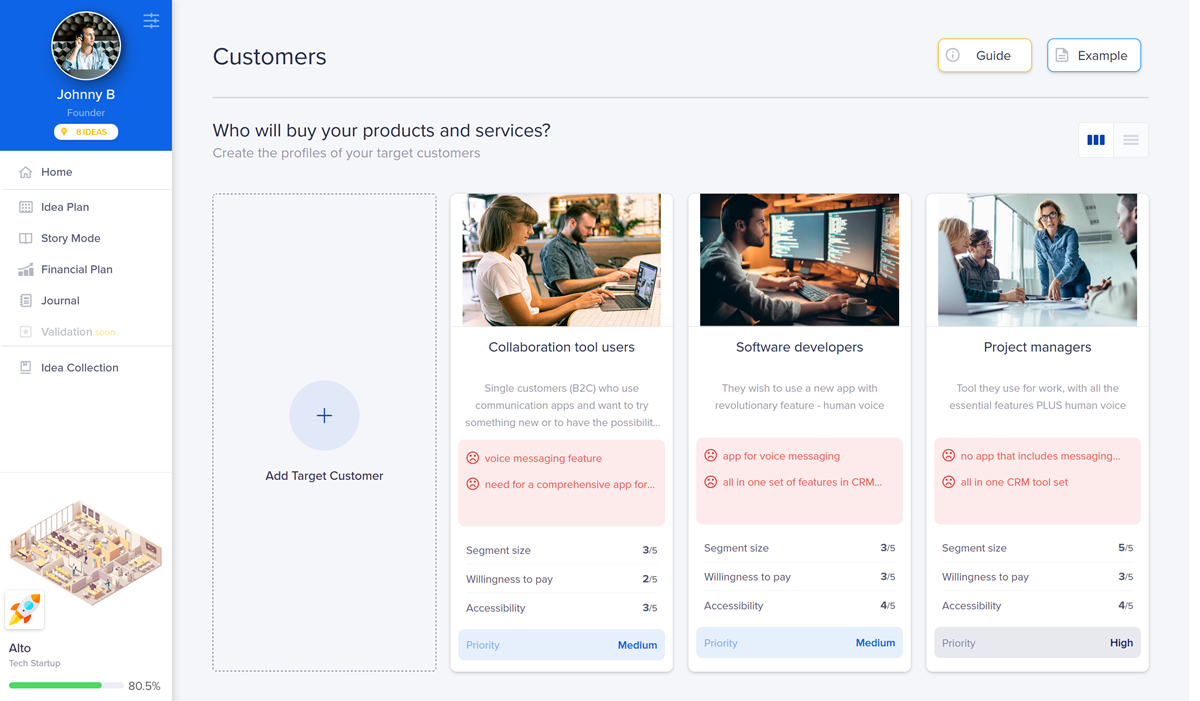 Idea Plan
So, suppose you're still sketching your idea. In that case, IdeaBuddy has its own business canvas called Idea Plan, which will help you build a business model.
It's reminiscent of Business Model Canvas and Lean Canvas, but with its own flavor. Like with any other canvas, your goal is to build your business model by posting idea notes until you've covered all your business elements.
Business Guide
The next cool feature is Business Guide, a step-by-step guide that takes you through the five stages of the business planning process.
It helps you create your marketing and sales strategy, define your target customers, compare yourself with the competition, and plan all the other elements of your future business.
IdeaBuddy has automated financials and calculators, which will help you outline your startup expenses, loan payments, profit margins, cash flow, and many other important financial metrics.
After you develop the idea through the Business Guide, IdeaBuddy documents the entire planning process and converts it into an investor-ready business plan, which is quite useful and hassle-free.
Features
Business canvas

Step-by-step business planning guide

Automatic financial projections

Business plan builder

Idea validation tool
👍 Pros
+ Attractive visual appearance
+ Innovative step-by-step business guide 
+ Idea templates
👎 Cons
– Limited features in the free trial
– Some of the features are 'coming soon'
Pricing
Dreamer plan – Costs $15 per month / $45 per year, and you can work on 1 idea (project). It includes a business canvas, a step-by-step business planning guide, and a financial plan, which you can export and share. 
Founder plan – Costs $25 per month, / $85 per year, and you are getting 3 ideas (projects). It has everything included in the Dreamer plan, plus you are getting a business plan builder.
Team plan – Costs $55 per month / $245 per year, and you can have up to 30 ideas (projects) in this plan. It has all the features included in the Founder plan, plus you are getting a business plan builder.
***Lifetime plan –  This is a time-limited offer and it includes a Founder plan with 3 ideas, where also you can invite up to 3 collaborators once that feature is developed.
You have a brilliant business idea, but don't know where to start?
IdeaBuddy
can help you will that. Get our exclusive lifetime offer and start planning today!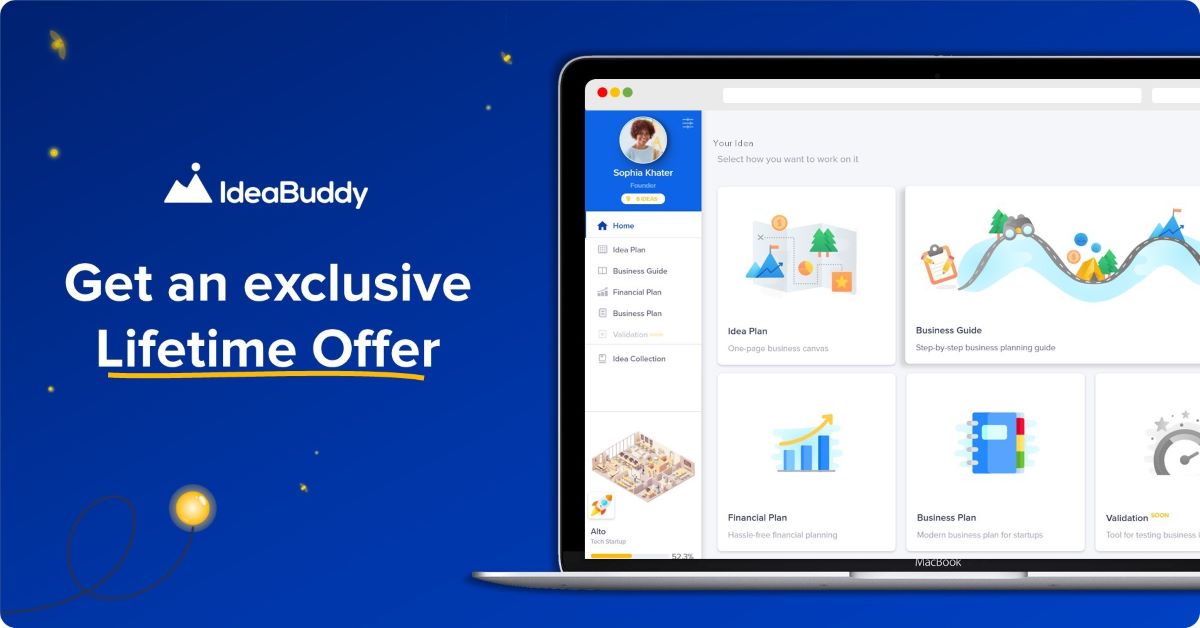 ---
Cuttles
Overview
Cuttles is an online web app for writing business plans and turning ideas into profitable startups. 
Entrepreneurs and startups will get the help they need when starting their business using a business canvas or creating their business plans with budgets and other financial forecasts.
The one-pager offers a simple business plan that has creative visual assistance. At the same time, the finance tool allows you to track your finances and budgets. 
You can turn any idea into a business and meet potential investors with proper planning tools and resources. And you can track your progress and performance with a simple roadmap feature.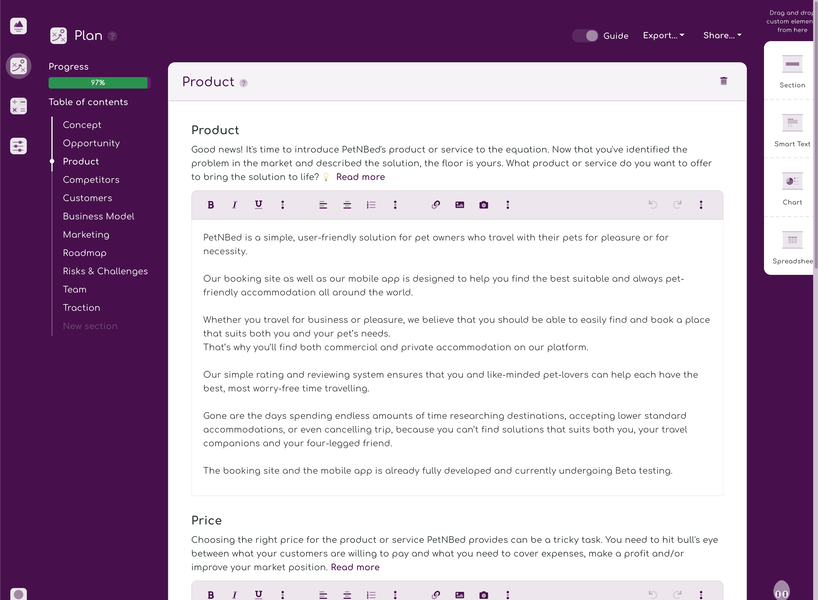 Features
Business canvas 

Business plan builder

Budgets and forecasts 

Roadmapping tool
👍 Pros
+ Visualize and share one dynamic dashboard
+ Great budgeting and runway feature 
+ User-friendly 
👎 Cons
– Some features are still under development
– Need more customization
Pricing
Dreamer Plan
For the entrepreneur with a great business idea ($15/month)
Startup Plan
For startups working together to bring one business idea to life ($30/month)
Unlimited Plan
For entrepreneurs and startups with more ideas to pursue ($50/month)
---
Traditional business plan software
LivePlan
Overview
LivePlan guides you through writing the plan on autopilot so that you can focus on the content., leaving the format of your plan to the software. 
LivePlan can track day-to-day performance using a live dashboard. You need to choose from the over 500 included sample plans that can be turned into inspiration in just minutes.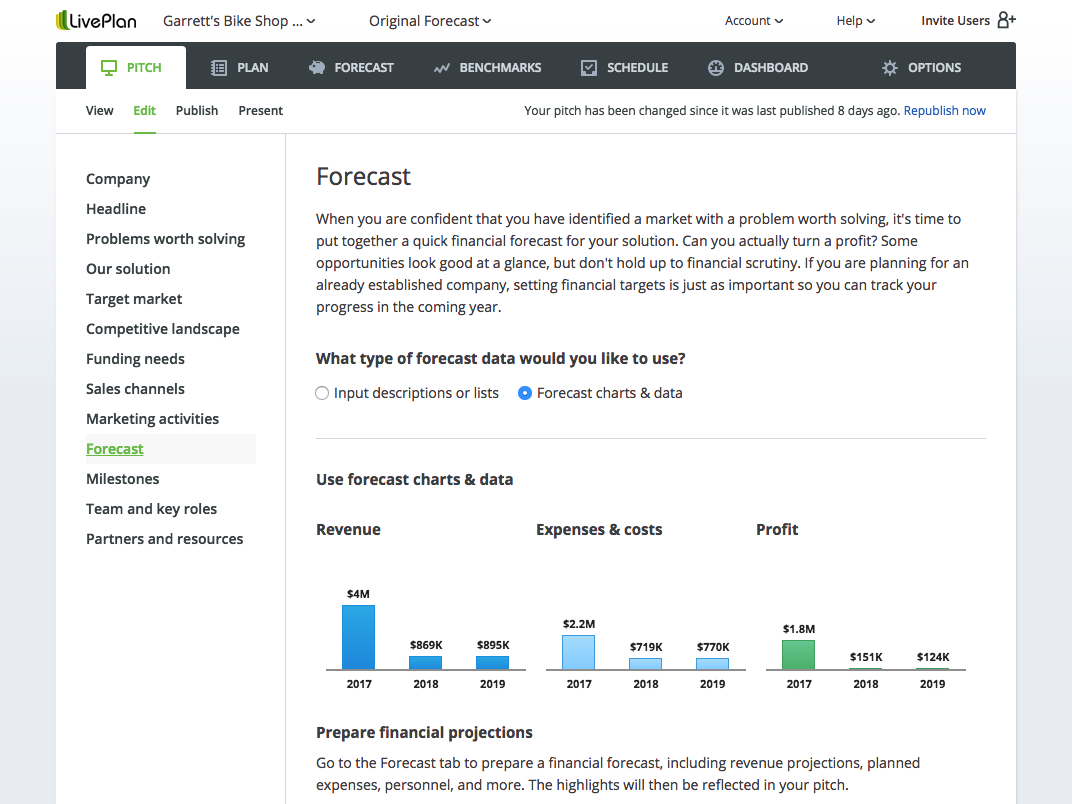 Features
Business Plan Templates

Financial Projections 

Fundraising Management

Track actual performance

Step-by-step wizard
👍 Pros
+ Attractive interface
+ Includes hundreds of sample plans
+ Simplified pricing of a single-tier
👎 Cons
– No free trial
– No mobile version
– Steep entry price 
– Outdated design
Pricing
LivePlan is a business planning software that offers a simple pricing scheme. But there is only a single plan to choose from:
Monthly plan for $19.95/month (1 business plan)
6-month subscription for $15.96/month (1 business plan)
Annual subscription for 139 (1 business plan)
---
Enloop
Overview
Enloop is an online business plan writing and financial forecasting app to create and manage your business plans.
You can choose from over 100 currency symbols and formats to set up your financial reports for your local currency. 
It generates basic text for each section of your plan. You can edit the text, add images, tables, and even insert financial forecast data into your text that updates automatically whenever you change your financials.
Also, it automatically generates financial forecasts as bank-ready reports in your business plan. It can do hard accounting work for you and explain everything in simple terms.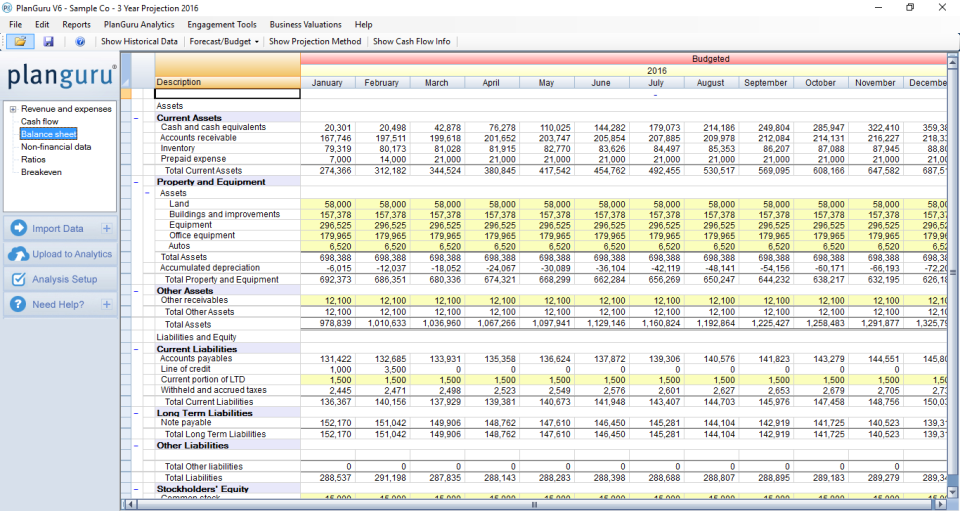 Features
Business plan 

Progress tracker

Drag and drop templates

Revenue projections

Team collaboration 
👍 Pros
+ Free plan
+ Compatibility with various platforms
+ Unique features like AutoWrite & TextSync
👎 Cons
– Doesn't integrate with Quickbooks, Xero, or other accounting software like other business planning software; therefore, you must enter your own financial data. 
– Lack of assistance for beginners 
Pricing
Free tier – Limited to a single business plan with simple text, no images, and no advanced features. 
Detailed plan – $19.95 monthly supports three business plans, detailed financials, and 16 ratios analyzed.
Performance – For $39.95 monthly, it supports three business plans, detailed financials, and 16 ratios analyzed.
---
Bizplan
Overview
Bizplan is the online business planning software, and it's a part of a Startups.com platform.
Bizplan has a guided business plan creator that allows you to make a modern business plan.
It also offers expert feedback on every step of the way, including models that can be dropped in and completed, along with quick incorporation of visuals along the way.
Bizplan Academy offers additional resources related to starting a business and making the business plan. 
Those who need even more assistance can also take advantage of an expert consultation from a financial expert that starts at $999.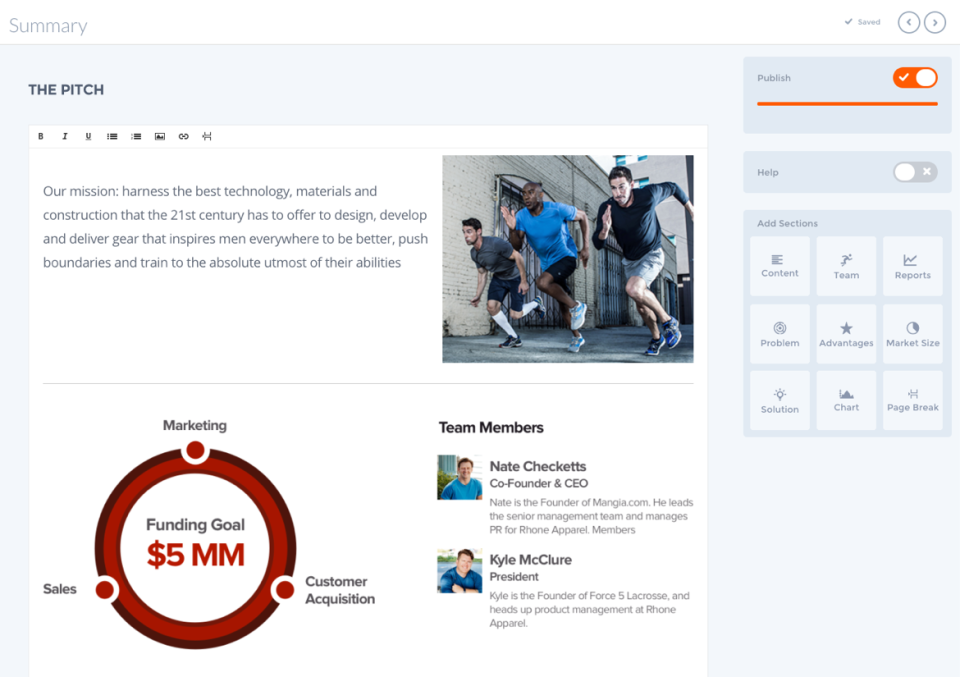 Features
Business plan 

Progress tracker

Drag and drop templates

Revenue projections

Team collaboration 
👍 Pros
+ Intuitive and user friendly
+ Good to use for existing businesses
👎 Cons
– Overwhelming interface
– Confusing data importing 
Pricing
Includes unlimited business plans, collaborators, and all available features. 
Monthly $29
Annual $20
Lifetime $349
---
Upmetrics
Overview
Upmetrics is great software to plan your business. It features a business plan editor, which refines your business plan to make it a lot more impressive.
Furthermore, finance modeling estimates the profit that you will be making from the business in the future. The pinboard is a handy feature that organizes the business inspiration materials in the right order. 

Features
Business Plan Templates

Collaboration

Dashboard

Financial Projections

Financial Templates

Pitch Presentation

Social Sharing

Step-by-Step Wizard
👍 Pros
+ Cloud-based
+ User-friendly 
+ Highly customizable and fast
👎 Cons
– Dashboard is missing
– Needs more inbuilt templates
– No free trial
Pricing
Solo – For a team of entrepreneurs who just started planning. 
Price: $5.42
Team – For teams & companies that need to manage multiple business initiatives.
Price: $8.25
Premium – For large organizations and professional consultants.
Price: $29.09
. . .
So, how to choose the best business plan software among these?
There's no doubt that creating a business plan properly and with the right tools is essential for your business's future growth and success. 
Luckily, choosing the right business plan software will make the process much simpler.
Before choosing any software listed in this guide, you need to compare multiple solutions and be sure that you chose the one that fits your planning stage.
Keep in mind the following: 
Features you're looking for

Your user-experience preferences 

Your budget
This way, you'll have a list of criteria in mind as you explore different software solutions.
Perhaps the best thing you can do to find the right business planning software is actually to test out the apps themselves. 
That's why we suggest you try IdeaBuddy.  Try it out and let us know how you find it.