Founding a startup requires resilience, flexibility, and a lot of improvisation along the way. The path from an appealing idea to a feasible venture is long, which is where a startup business plan comes in handy. It helps you navigate through a (sometimes) seemingly endless loop of financials, customers, and investors, all the while building a great product.
Despite all these potential hitches, startups are incredibly exciting. Most founders are in for the innovation, trying to get from bootstrapping to unicorn glory. And most often, they fail.
The reasons are numerous. Bad market moves, poor timing, unreliable investors, or untested ideas. These make just the top of the pile but are still enough to bring your startup to ruin. But likewise, with proper planning ahead you can preempt most unfavorable scenarios.
And that's why today we look at how to create a startup business plan. We'll cover:
Why it's important that startups write a business plan
Areas a startup business plan particularly needs to focus on
How to formulate a business plan for the success of your startup
A template of a business plan for startups
All this should help you focus on the how of business plan writing and give guidance on how to stay protected and nimble along the way.
Importance of Writing a Business Plan for Startups
A good business plan can help startup founders in a number of ways.
First, it lets you keep all your ideas in a single place. You will get a bird's eye view of what you need to cover to get from point A to that first investment and then beyond.
This then helps you determine the feasibility of your initial hypotheses.
Were you clear enough on your marketing?
Or were you overly optimistic about prototype building time and resources?
Have you planned for dry spells when no investor shows up?
Have you figured out your target persona and do you know how to reach your customers?
Can you tell, simply, what your business is about, i.e. do you have your mission and vision sorted?
As you can see, one question breeds several. And this goes on.
Then, the business plan also helps your pitch stick. The risky nature of startups keeps investors and banks reluctant. The less known the concept, the trickier it is to sell it. And if you're not serious about your business, then why would investors be?
To be serious means having a sense of direction of where you're headed. This is what your business plan should help you achieve.
It's worth mentioning one misconception here. Many startup founders ditch writing a business plan, under the pretense that it is an outdated concept. "When everything moves so fast, why waste time on writing it down?"
But in reality, all that's left of a promising startup without a proper plan is mere hustle. There won't be much success with raising capital, reaching customers, or winning market share. So now that we've glimpsed the significance of a startup business plan, let's get down to writing it.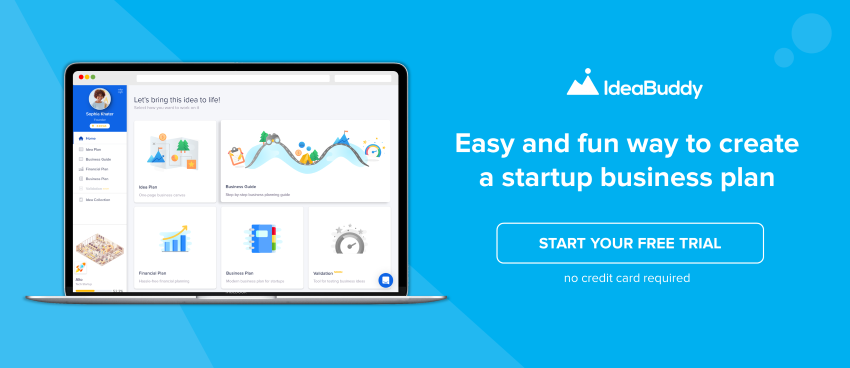 What to Cover in Your Startup Business Plan
Typical business plans you've seen out there cover an enormous number of aspects. They go from executive summary, background, mission, and vision, to financial projections, organizational structure, and product and services life cycle.
For startups though, the game is slightly different.
The reason is that a startup needs to first focus on essential parts of the business. It needs to send a signal of trust and reliability towards all parties involved — customers, investors, market, competitors, and suppliers.
So, let's look at a startup business plan from a top-priority perspective. For easier management, we've divided it into several pillars.
Pillar 1: Customer, Market Research and Competitor Analysis
This tier is the core of your startup.
It explains why your venture exists in the first place.
It combines data, evidence — and your innovation flare.
So, here's what, and more importantly how, you need to cover it.
Customer
Customer research has started to receive a vibe of a buzzword but it's nowhere near as implemented in practice as it seems. And it's the first checkpoint you need to tick.
To ace this point, you need to empathize with your customer. This means that your business plan should cover:
Customer demographics and geographics
Customer behavior — how does your target customer interact with the market or similar products? Through which channels? How much and often do they spend? Are they willing to pay for the service? How can you tell?
Customer preferences — think holistically here. Who are your customers as people? What vexes them? What makes them tick? Is there anything else in their day-to-day lives besides your product? Again, it's about the customer, not you. And the more you reflect this in the business plan, the better the buy-in you'll get from investors/partners.
Customer pain points — what is it that bothers them and how do you assuage the pain?
Realistically speaking, you might not have the resources for large-scale customer interviewing in the early stages. However, there are a handful of tools that can help you with it, such as the customer journey map or empathy map. Again, the tool is just the means to help you formulate your ideas, but you need to know what your ideas are. That's why you need the business plan.
Market research
In terms of market research, you need to know and present in the plan:
the size of the market,
its growth projection,
your market share potential (SOM)
barriers to entering the market,
legislation,
market saturation,
product life cycle
The better you know this data, the easier it will be to win over the investors. Again, don't go just for the numbers, but for the context. Where and how does your startup fit the numbers? And how can it help these numbers swell?
Competitor analysis
Stemming from the previous point, you ought to know what similar solutions to the problem exist. If there already is a solution to a problem, you need to bring in a twist.
That's why your business plan needs to thoroughly demonstrate your knowledge of competitors.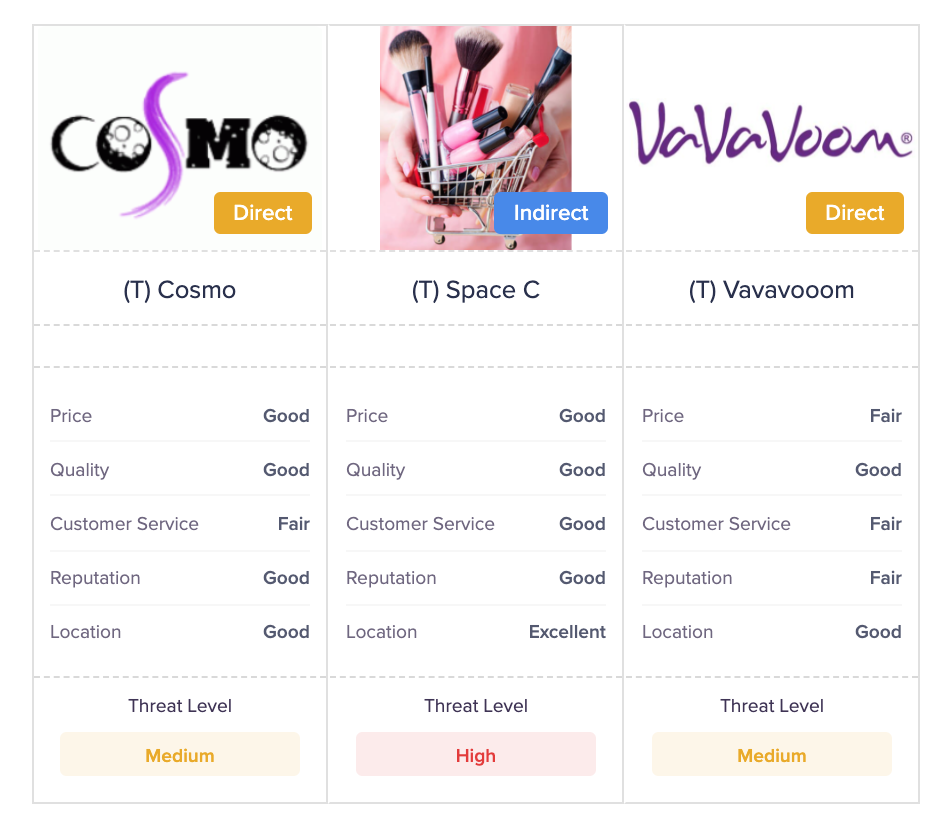 You need to know them as well as you know your own product, or even better. Feature a SWOT analysis of your key competitors or carry out brand differentiation planning, but don't refrain from exploring past the direct competition.
Often, an indirect competitor can help shed a new perspective on your product.
Pillar 2: Objectives and Organization
Now that you know who the customer is, what market and industry you serve, and who else is in the game, you can start building.
In short, your business plan should reflect your startup identity, in a couple of paragraphs.
So, when it comes to objectives, make sure to be crystal clear about the following aspects:
What you want to achieve (tying back to the customer's pains)
How you plan to achieve this (this is where your product/service and market/sales strategy kicks in)
Reasons for going into business
Mission and vision at this point
Next, you should proceed by explaining who you are. Who's part of your organization, what's your organizational structure like, what's the relevant experience of team members. All these bits help potential investors gain trust.
But at the same time — your business plan will reflect potential role conflicts and dependencies, and most importantly it will serve as a go-to place for any uncertainties about accountabilities and duties. This is crucial in the early stages.
Pillar 3: Budget and Financial Projections
To achieve all the above, you need to budget accordingly, which brings us to the final pillar.
Most startups are strapped for funds, so it will take some time before you can afford to not know the exact costs and expenditures.
In terms of your business plan, make sure to include information on costs such as:
Inventory
Payroll
Legal and administration fees
Equipment
Property
And as a rule of thumb, be as conservative with your estimates as possible. Always estimate higher, so that you're on the safe side when it comes to expenditures.
On par with the budget are the financial forecasts.
While it's still early to project as far as cash flow statements or detailed reports, it's good to have a ballpark estimate of how you plan to break even.

Start with the first couple of years, but be specific about more short- to mid-term goals to the extent possible. Factor in aspects such as:
Planned quantities sold or services provided
Costs of suppliers and other resources
Clients you plan to win over
Profits goals per quarter
Once you have this information planned out, monitor closely and adjust projections as you go. Always stay conservative and specific so you don't run out of resources.

Managing all these aspects may be overwhelming, so having a business plan tool for your startup to navigate you through the process can come in handy.
Startup Business Plan: Recap
So, those were the foundations of a stable yet scalable business plan for your startup. Depending on the industry you're in, market specificities, target audience or the life cycle of your product offering, the initial plan can vary to a different extent. But if you ace these points, you will be off to a good start, with plenty of room for quick adjustments when needed.
Finally, before you get down to writing, here are a few key points to remember:
Start small and be specific. First, go with the essentials and then move to less crucial aspects.
Always think holistically and see how your moves affect your initial plans and values. Challenge them often, as investors surely will.
Write it down even if it seems banal. Too many startups have failed to take off due to a lack of documentation and well-thought processes. Stay out of this trap
Your business plan is your startup's ID. Make sure it's punctual, truthful, and feasible.
Continuously test it out and adjust your plan regularly.